What is Omote
Omote is a great spot for casual Japanese food in Singapore. Rebranded from the previous 12-seater bar, Omoté, a japanese restaurant occupies an expanded shop space on level 3 of Thomson Plaza. Tucked snugly in a corner, the eating place opens to a warmly-lit spacious interior. The menu features a wide variety of traditional Japanese dishes, such as sushi, sashimi, ramen, and tempura. The portions are generous and the ingredients are fresh and of high quality.
Since Omote has been launched, it has been revamping their menu and updating it with new dishes every six to seven months.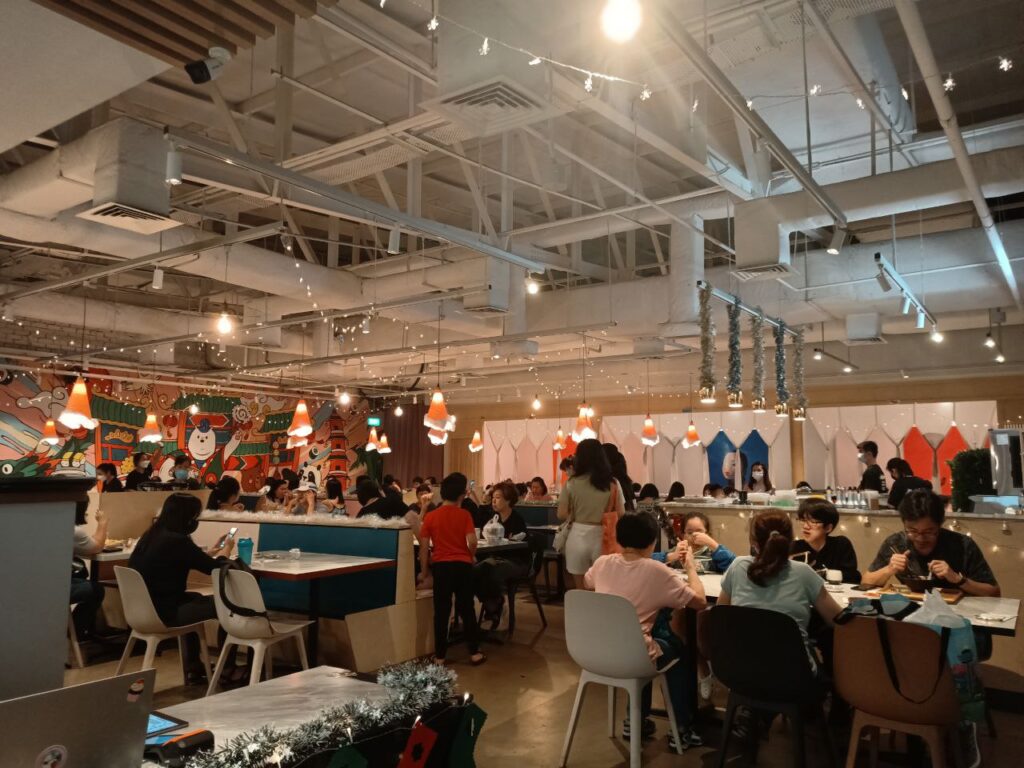 This is my second time patronising Omote. The first time I came, was when my friends introduced to me this restaurant.
It is known to be always crowded so it was a good thing that the restaurant upgraded from first floor to 3rd floor, occupying more space so that it can accommodate more diners.
Also, read:
Katong Famous Boneless Chicken Rice Review
The Breakfast Club Kovan Review
Geylang Frog Leg Porridge Review
Omote Menu and Offerings
Omoté offers a wide range of food including iconic classics out of which I tried Omote Chirashi which I absolutely loved and Salmon Booster Chirashi($25.80) which is a mix of Salmon and Caviar with a blend of Signature Chirashi, this is perfect for salmon lovers.
Then in their Quintessentials mains, they have Spicy Yakiniku Don, best option for spicy lovers to Grilled Salmon Belly Teriyaki Don, chargrilled salmon belly which is marinated with Sweet Soy Marinade. Truffle lovers rejoice, as they also have Truffle Roasted Garlic Chirashi. 
They also offer Shuko Snacks such as Edamame, Grilled Torikawa and Tori Karaage. In short, Omote's dishes cater to all crowds. You will find something that is tantalizing for your tastebuds!
Omote is a to-go place for people who relish Japanese cuisine in Singapore. At Omote, they have a lot of customers visiting Omote specially for their affordable chirashi bowl.
Typically if you are looking for fresh bara chirashi, the price would be pretty pricey. And if the price is low, the quality of the ingredient would be lowered.
But here, you get fresh bara chirashi, and still at an affordable price, that's the reason why so many people love Omote!
Every bowl is topped with a generous serving of diced sashimi. And the rice portion underneath the raw fish is quite a lot too. They have condiments at the side, I had some soy sauce to dip with my sashimi.
Mentaiko fans, you will be delighted! Omote has Mentai Chirashi Don too. Chirashi is smothered with creamy mentai sauce, then torched before being served.
There are also donburi served like Yakiniki Don, an assortment of sushi, sashimi, Japanese appetizers, and Chirashi don.
Notwithstanding sushi, Omote is more widely known for their Chirashi Don
See their menu here.
What We Ordered at Omote
Hence, we got ourselves 3 Omote Chirashi, Sashimi Set Lunch, Premium Set Lunch and Salmon Booster Chirashi.
Our bill came up to slightly less than $100, its about $25 per person.
Frequently Asked Questions on Omote
Can I make a reservation at Omote?
Yes! You can make a reservation. Your reservation will be held for 10 minutes after which the table will be given up to other customers. If you are arriving late you will have to join the walk-in queue
Does Omote do delivery?
Yes, they do! You can do a self-pick up. Or you can get delivery at $10 flat fee. Do note that food is best consumed within 1.5hr upon receiving it. They work with a couple of delivery providers, such as Deliveroo.
Omote Outlets in Singapore
They have 3 outlets in Singapore
Thomson Plaza (flagship)
301 Upper Thomson Rd, #03-24A, Singapore 574408
Mon: 11.30 am-2 pm
Tues: CLOSED
Wed-Sun: 11.30 am-2 pm, 5.30 pm-9 pm
Velocity@Novena Square
238 Thomson Road, #03-09/10, Velocity @ Novena Square, Singapore 307683
Mon-Sun: 11.30 am-2pm, 5.30pm-9pm
Raffles City
252 North Bridge Road, #B1-44C, Raffles City Shopping Centre, Singapore 179103
Mon-Sun: 11.30 am-2 pm, 5.30pm-9pm
About Author