Tucked away in the basement Kopitiam at Katong Shopping Centre, was the famous Katong Delicious Boneless Chicken Rice. This Hainanese Katong chicken rice stall serves a tantalizing collection of dishes that are suitable for group gatherings and casual dining.
If you want to check out other food hunts
The boy was of course familiar and raved about it. He loves their delicious boneless chicken rice and has been patronising them for years. In addition to that, NOC food king gave it a 5 star as the best chicken rice in Singapore.
The Kopitiam had a few stalls but it was clear that the Katong Delicious Boneless Chicken Rice stall was the most popular with more than 80% of the diners at the food court having chicken rice alone.
They are pretty high tech with a QR code where you can scan QR to order your dish. Although the queue was pretty long they are very efficient, so we got our food quite quickly.

What we ordered at Katong shopping centre chicken rice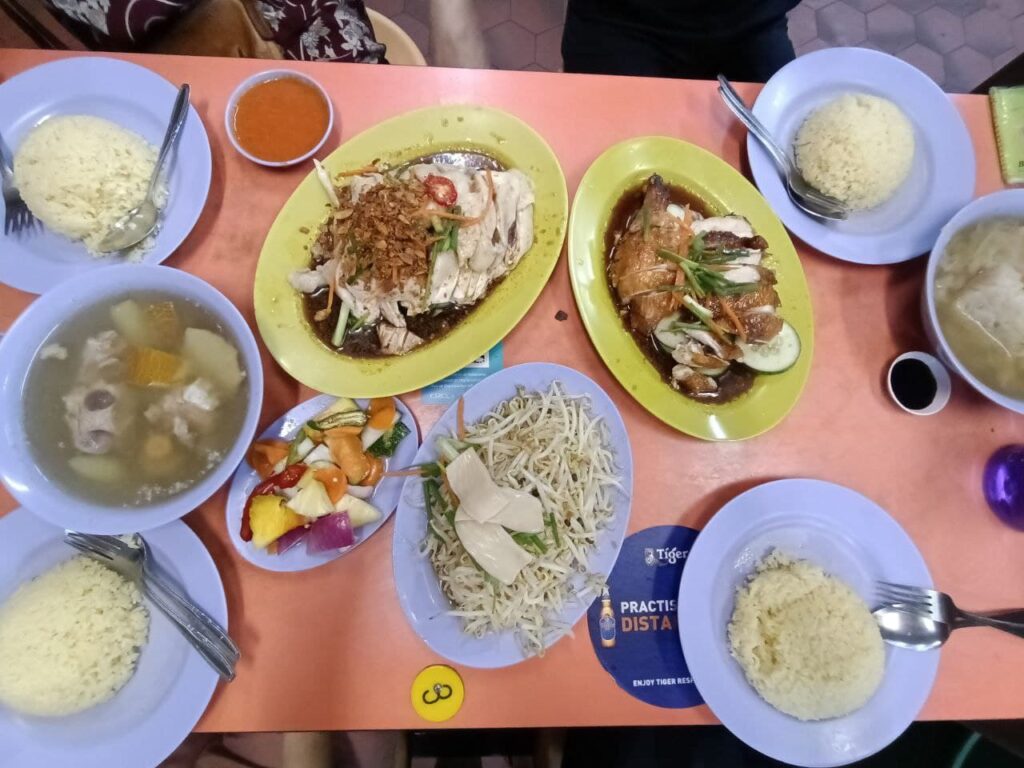 We had half a chicken, a large plate of beansprouts, a drumstick and some thigh if i recall correctly. It has been a while since we last went there. 
The serving was very generous. It comes with free cabbage soup, two large bowls of soup with ingredients still in them. I seldom come across a chicken rice stall that gives you such generous portions of soup with ingredients, usually its just soup by itself.
Chicken and Achar at Katong Chicken Rice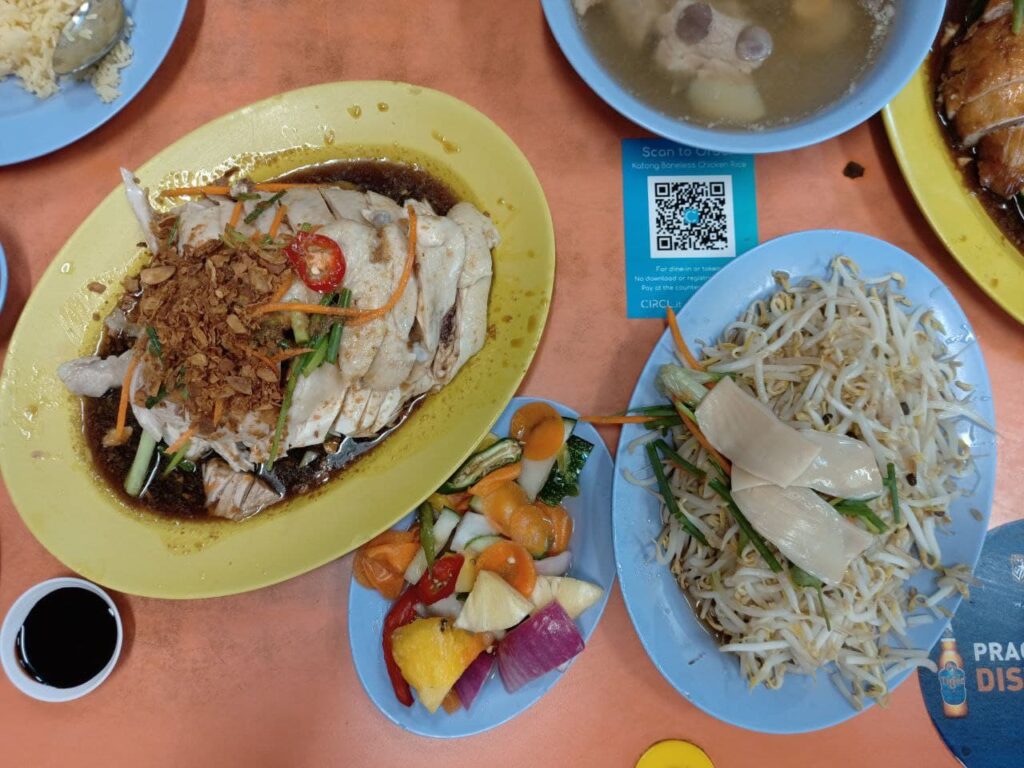 So, the boy said their achar is the bomb and it's free! The portion size of this food item seems huge to me. Plus you don't come across many places like that where they provide such large dishes for free.
The achar comprises a mix of chunky pieces of pineapples, cucumbers, some carrots and onions. With a zesty mix of sweet and sour, the pickled vegetables are the perfect side dish to the chicken rice.
The rice, cooked with yellow ginger and chilli sauce was fine. However, the boy's favourite part about the dish is the chicken. The steamed meat was tender yet juicy; not greasy at all.
However, I just gotta say, I still prefer Yishun 925 chicken rice, I'm a fan of their chicken rice. So i guess its a split, my dad and the boy likes Katong chicken rice while my mom and I still prefer Yishun 925 chicken rice. 
Maybe I'll write a review on it next time 🙂
FAQ
Does Katong Chicken Rice do delivery?
They do islandwide delivery via https://katongchickenrice.oddle.me/en_SG/. Min order $40, delivery fee differs depending on area.
Does katong Chicken Rice have QR ordering code?
Yes, see the image
Katong Delicious Boneless Chicken Rice
Operating Hours
Open Tuesday to Sunday 10:30am to 7.30pm
Closed on Monday
Address
B1-85/87, Katong Shopping Centre,
865 Mountbatten Road
Singapore 437844
About Author