Generally, cruises are quite expensive, especially Royal Carribean which we heard is one of the best cruises with the most amenities on board. Who would want to be stuck on a cruise with little stuff to do? I would be bored. So when the sales staff informed us that the Voyager of the Seas cruise has extreme sports like FlowRider to do stand up surfing and boogie boarding, L was instantly enticed. I was more interested in experiencing a cruise holiday, a little afraid at the thought of trying Flow Rider though. But since it was a promotion, we decided to snap up the deal. For 2 people, the price was inclusive of our meals onboard.
Voyager of the Seas Review on the Beverage Package
We did not buy the Beverage package as L mentioned that there is a Cafe Promenade where we can refill our water bottles. Partially it was also because the Beverage package is more suitable for people who drink alcohol a lot. Otherwise, with the amount of money you are paying a day, a range of US$12.99 – 60+ a day, it isn't really worth the value for us.
Voyager of the Seas Review on the WIFI package
Similarly, we also did not buy the wifi as we did not see the need for it. C'mon you're on a holiday, why be bothered by email notifications? Just enjoy the trip! Price of the wifi varies from about US$13 to US$22 per day per device. I find it too expensive and not worth it.
Somehow in the past, before I started working, I would pack my luggage early, way in advance or plan what I want to bring. But as time passes, after I started working, I would do last minute packing. I love going for travels but just hate the thought of packing and unpacking luggage.
Click to read Day 1, Day 2 and Day 3 & Day 4 of my cruise trip, or the helpful tips on what to bring, what to do on the cruise.
Voyager of the Seas Review (Day 1) (Royal Caribbean Cruise)
Both L and I brought cabin sized luggages. When we booked our cruise, our agent informed us that 1 of the nights, the dress code would be formal, so I packed my gown together with heels and clutch. We were advised to bring at least 2 sets of swim wear. So in total, I packed 3-4 outfits, 1 evening wear and 2 swim suits. But in the end, for all 3 nights, our dinner were just casual. There was no formal dress code. BUMMER.
For ease of packing, I decided to opt for luggages instead of my usual ultra sized anello backpack. With the amount of clothes, it felt like i was overpacking. So on the day itself, we took the MRT to Marina South Pier Mrt Station and there was a shelter leading us to the cruise terminal from the mrt station. It was very convenient. There, we saw people with luggages much bigger than mine. I saw ladies, each carrying a super big luggage, those kind of luggage that you would use for 2 weeks long trip. I was like, looks like my luggage size is quite normal.
Online Check In was done by our agent. Our room was the stateroom with virtual balcony. We were supposed to be there at 11.30am. We went to the cruise center around 11.50am as we were snapping mandatory OOTD
shots outside. We had baggage clearance, then we went to queue to get both our Boarding Card and SeaPass.
Our colour was beige. There were signs everywhere, so we just looked for the sign that stated ' Beige' and we sat there with the rest of the passengers.
A short while later, we were ushered to do custom clearance. The process was very smooth and efficient. I think we cleared the queues in a matter of 30 minutes for everything? While walking to the cruise, we saw a long queue and I was like oh no, such a long queue. They scanned our sea pass bar code and motioned us to go to a different queue, and collected our passports. You have to pass them your passport. They will return to you at the end of the trip. Again, it was very efficient, we cleared the queues in 10 minutes.
We wanted to move to our rooms but the staff informed us to have our meals at the Sapphire Dining Room first. So we followed everyone and deposited our luggages outside the Dining Room. Before the cruise, we already printed our luggage tags and attached them to our luggages. So even if there are other luggages with the same design as ours, with the tags, we can distinguish our own luggages from others. Each table in the Sapphire Dining Room has the name of the waiter, who was very attentive.
The food was super good, I was super satisfied. The dining room was very grand, I felt like I was in Titanic, the grandest ship of all time.
Rating of Sapphire Dining Room : 5/5
Voyager of the Seas Directory
If you are looking for a directory, you can find one right outside the Sapphire Dining Room that is located at Deck 3 to 5, it is 3 storey high.
Although there are long queues for the Sapphire Dining Room, but it clears very quickly. It is worth it to queue for the food, super good. After the sumptuous meal, our waiter informed us that we may proceed to our rooms. EXCITEDDDDDD!!!! I was skipping and humming as I skipped to our room. People happy lah. L was busying towing our luggages behind me.
Voyager of the Seas Review of Amenities in Our Stateroom in Royal Caribbean (Voyager of the Seas)

I already researched online that stateroom in cruises are very tiny so i did not have much expectation on it.
I researched earlier on and i knew that the toiletries provided is only the bath soap and 3 in 1 body soap (for face, body, hair). I wasn't too keen on that so i brought all of my toiletries. They do provide towels, room service was good, they house-keep our room daily and sometime fold our towels into cute animals. They also provide complimentary mineral water but when they do house keeping, they do not replenish the water in the room so you have to go to Cafe Promenade to get more water! Ladies who are having the time of the month, rest assured, I spotted a few sanitary bags there in the toilet.
And yes, hair dryer is provided!
We have a tiny fridge in our room and a TV. The TV is hinged and you can adjust it in a way that you can watch movie while in bed.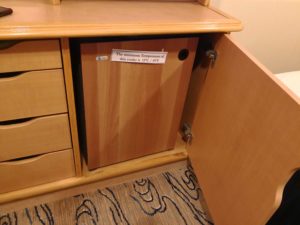 Review of Voyager of the Seas Cruise Compass
I was quite excited on the Voyager of the Seas Cruise Compass as that is like the itinerary/programme sheet for each day. To know what are the activities available daily, you got to refer to the cruise compass. Bring a highlighter to highlight the activities you want to partake in!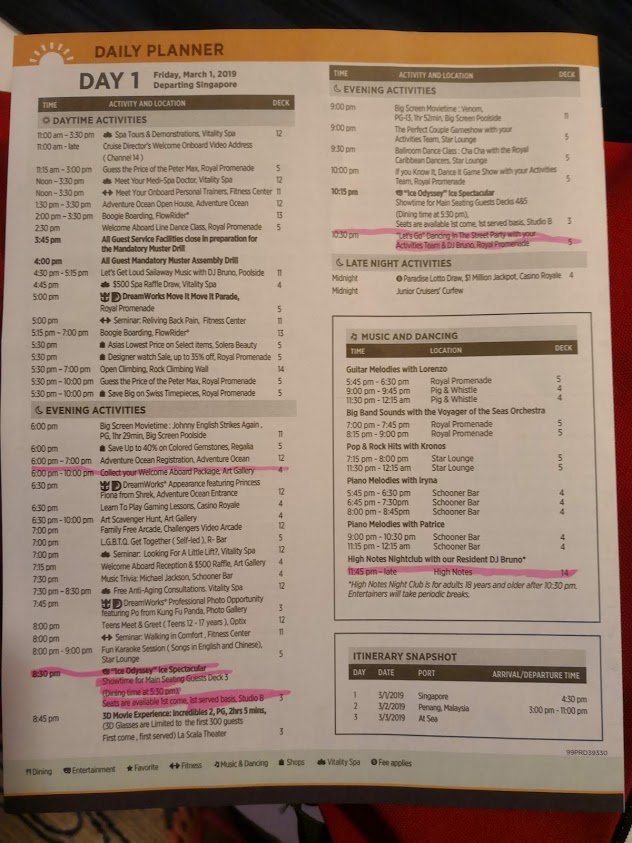 Exploring things to do on the Voyager of the Seas Cruise
After exploring our room for a while, we went to check out what activites are available on the cruise. They have rock climbing wall, mini golfing, basketball court, flow rider, casino, ice skating rink, table tennis, hot tubs (OH MY FAVOURITE), and alot more! Generally, we saw a lot of older folks along with their families. You tend to see 3 generation families, like very old grandparents with their children and teenage grandchildren, or young grandparents hustling about with their children and toddler grandchildren. The activities available are suitable for young and old.
Before the cruise started sailing, we went to play mini golf, although it was sweltering hot! Then we checked out the Flow Rider but it was not on till late in the evening. We decided to do it the next day instead.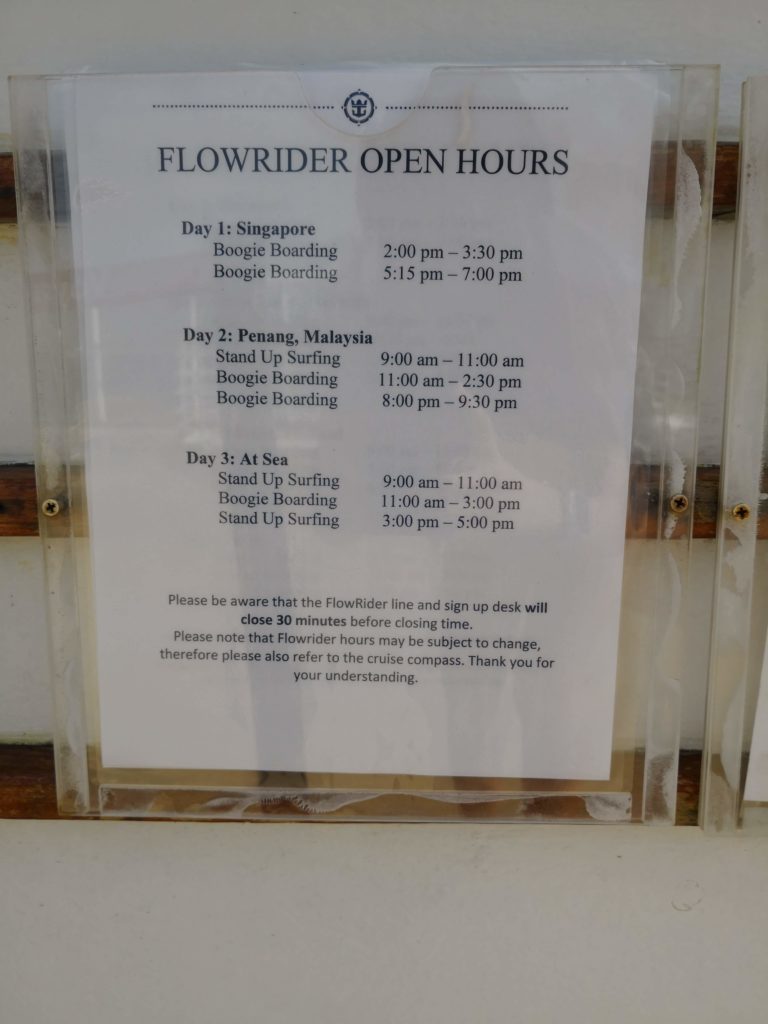 I was feeling quite summery so I changed into my flowery outfit. We went to collect our free gift which was some art piece. I couldn't appreciate the art piece though.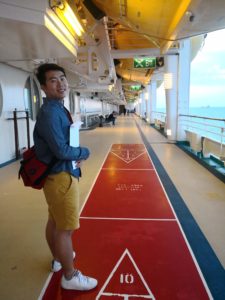 We went to check out the various decks as well as the shops on board the cruise. The shops available sell branded goods. The brands that we saw were Michael Kors, Coach, and a couple of other shops.
L had reserved our dinner at Sapphire Dining Room, we were supposed to be seated around 5.30-6pm daily at that Dining Room for our fine dining dinner. But I ate too much for lunch so I wasn't hungry for dinner. Oops.
I had fruit platter and linguini pasta. It wasn't the best choice. The pasta tasted overcooked, and Ii couldn't finish it.
Hot Tubs and Mega Screen at top of cruise deck
After our dinner, we went to explore the decks again.
We tried a bit of the party at Promenade, it felt like a zumba class in the open haha!
When we returned to our room to rest for the day, we found the Voyager of the Seas Cruise Compass for Day 2! So fast!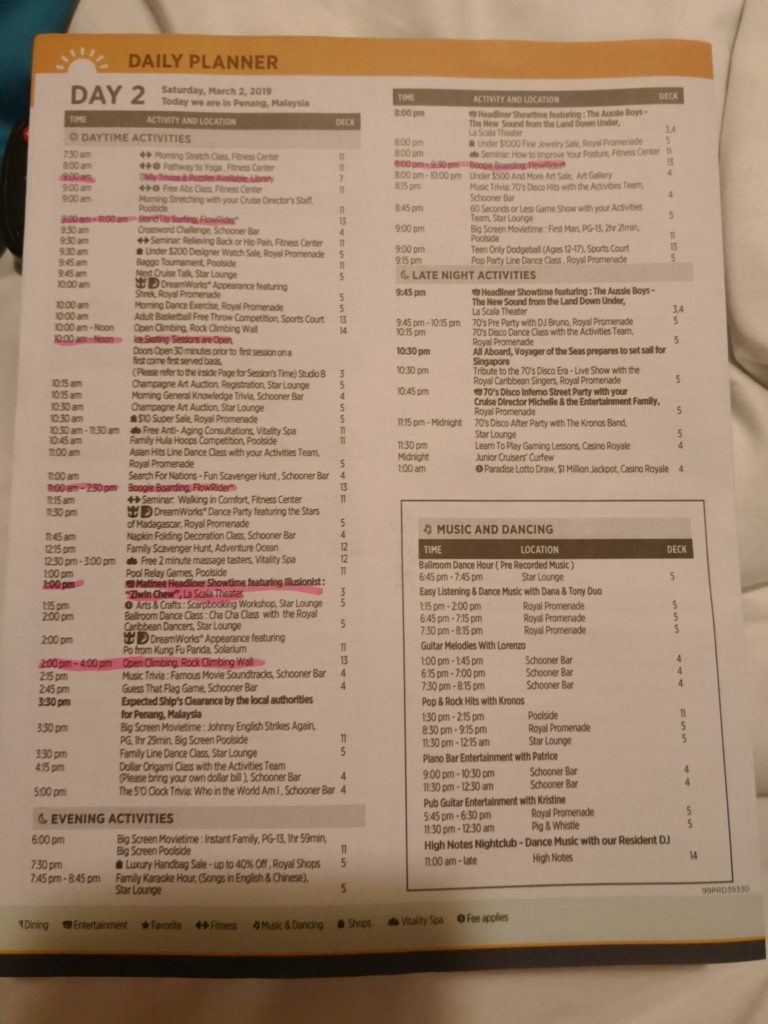 Voyager of the Seas Review (Day 2) (Royal Caribbean Cruise)
We got up early for breakfast at the Windjammer.
Breakfast at WindJammer
It is the buffet restaurant where there is a wide selection of cuisine. They have pasta, Singapore's chicken rice, frog legs (i dont recommend it as it is overcooked till you can't taste the juiciness in the meat, it taste like powderised meat), Indian food, Halal food, vegetarian food, western food. It is international cuisine. As L's flow rider starts around 9.30, we sped ate and rushed to sign up for his flow rider.
Flowrider on Voyager of the Seas
I opted out and became the personal photographer instead, catching every surf and fall that he made, more of falls actually than surfing. HAHAH. The queue moved very quickly, in no time, L kept queueing to surf again and again. He surfed almost 10 times. It was only a few mins queue each time.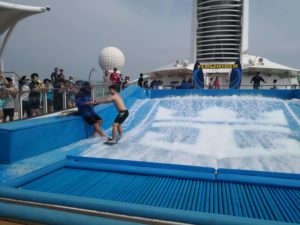 Review of Ice Skating Rink on Voyager of the Seas
Then we went to ice skate, they have 4-5 sessions, each session is about 20 minutes long only. It is hot favourite among the families. I mentioned earlier, there are MANY families onboard the cruise. Especially with primary school children. To sign up for the ice skating session, all must be present with their seapass. Each person will have their own seapass. To be honest, i was a little disappointed at the size of the rink, i have expected it to be bigger. The rink is like half the size of the rink at Kallang Leisure Park.
I got size 3 (kids skating rink boots). I tried adult smallest size but it was too loose, my feet kept rubbing up and down, left and right of the boot. I couldnt balance at all with the adult boot but when i changed to kids size, i could balance much better. L started skating around the rink very expertly and tried doing stunts. Then when a kid falls down, he would be teaching the kid how to get up on their knees. Anyone looking for an ice skating instructor?
After skating a short while, we went to have lunch at Windjammer again, our appetite shrank further as we ate the spread. It has really a lot of variety of food, but the quality was a little lower than what we have expected. As we got out of the lift, we saw a long queue for Sapphire Dining Room, the lunch at that restaurant is only from 12-1.30pm, we were like , why are so many people queuing for the lunch? Why not go to the Windjammer? We will then realise why on Day 3.
Review of Magic Show on Voyager of the Seas
After our lunch, we went for magic show featuring the magician, Zlwin Chew. The tricks were pretty mind blowing for me, some new magic tricks and some old tricks. L fell asleep though, he felt it wasn't engaging enough. Truth is, his mind is only about the Flow Rider. He needs the Flow Rider. The magic show was at the Theatre, refer to the directory to see where it is at.
Dinner at Sapphire Dining Room
We went to our dinner at Sapphire Dining Room, and this time i ordered steak and escargots together with him. We both love steak and escargots. Huge Love. It was a wise choice, the food was super good, so good.
Satisfying his flow rider cravings
He had craving for more flow rider, so as the girlfriend, we just have to accompany our bf. After much coaxing from him and other riders, I gingerly tried Flow Rider.
Firstly, thankfully the water wasn't cold. It was warm. But i was terribly afraid of the rushing water. The instructor told me to jump to the center with my board, but i darent jump to the center and kept landing near the sides. After 3 tries, I decided it just isn't for me. So the boy had his fill with Flow Rider.
Results of PQ vs L:
I only slammed into the wall once (it is cushioned wall) and got a blue-black on my knee and a scratch on my finger. The boy fell head first into the water, tumbled in it the past 1 day, fell many times from stand up surfing and boogie boarding, and he didnt get a single scratch or blue black or any bruises at all !? WHAT SOCERY IS THIS?! Why do i have more bruises than him?!
So after the boogie boarding, I was really tired and we went back to our room to rest and get ready for the last day of fun. Because my hair got so entangled, and i was super tired, L helped me to blow dry my hair and combed it thoroughly. #bestboyfriendever L kept exclaiming, ' OMG my hair has already dried and your hair is still wet after so long of blow drying ?! ' Now he know the pains of long haired ladies.
24/7 snacks at Cafe Promenade
I was hungry that night so we went to Cafe Promenade to get some snacks. Got ourselves pizzas and some milk. In case you're not sure how it looks like, here it is. According to the staff, they open until 3 am. But if you are hungry after 3 am, you don't need to worry. They will prepare lots of food and put them outside so you still can get food after 3 am. This means snacks are available 24/7 at Cafe Promenade. Super convenient.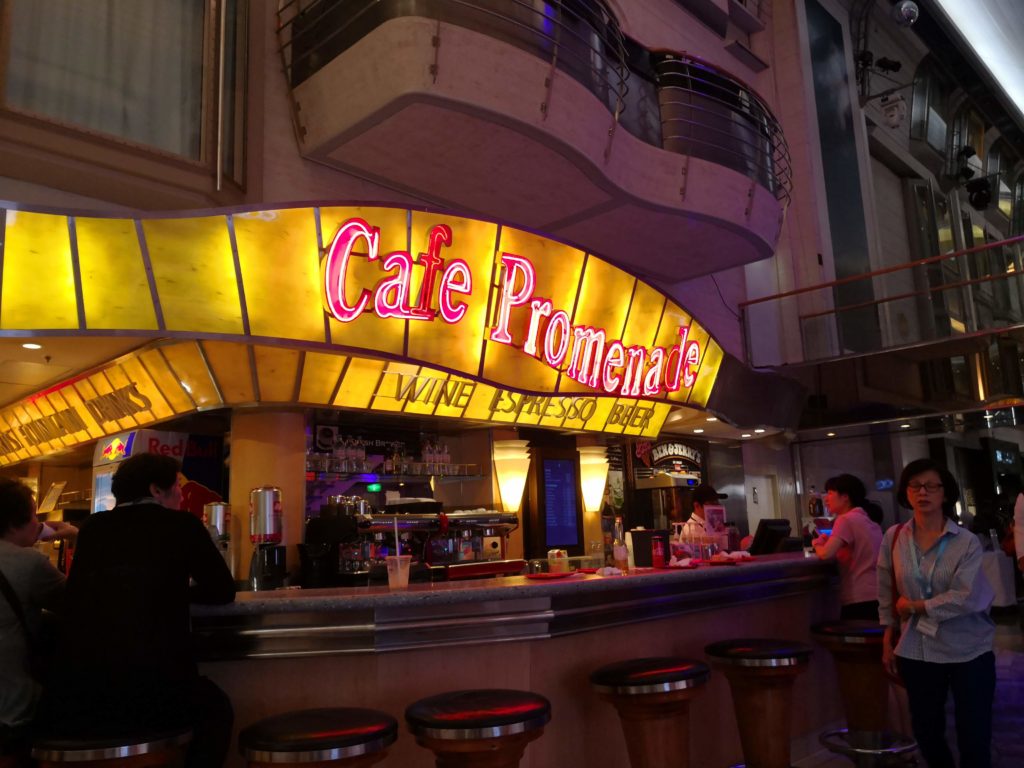 Review of Complimentary Continental Breakfast
We also decided to try the complimentary continental breakfast. I chose milk, with my oatmeal and some white bread. It was not bad for a free breakfast. They served within the time frame i selected.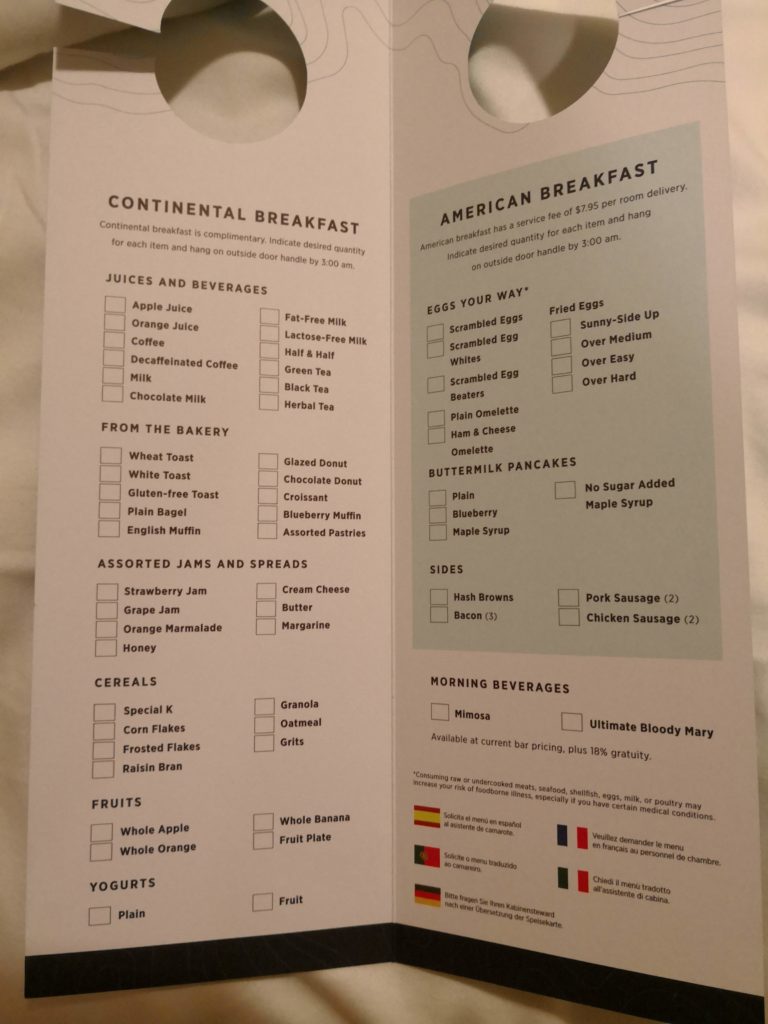 Voyager of the Seas Review (Day 3) (Royal Caribbean Cruise)
For lunch, we decided to follow the crowd and went to try Sapphire Dining Room. The queue was extremely long, but it cleared very quickly. The staff asked us ,' language, English or Japanese?' I was puzzled and replied , ' uh English?'
He ushered us to a long table where a pair of Japanese grannies were seated together. The granny started speaking excitedly to L. When I glanced over, she motioned to me in Japanese. We both looked at each other and smiled weakly. I think that they thought we speak Japanese when we had no clue what they were saying. I accidentally ordered 2 mains for myself, so I ended up having salmon as my first main and spaghetti bolognese as my second main. L also had salmon.
Review of Ice Odyssey on Voyager of the Seas
Next we went for the Ice Odysey show that we missed on the second day. It was super good! 5 out of 5! You must watch the show, don't miss it! The stunts were beautiful and the skaters were so stunningly graceful.
Review of Family Hip Hop Class at Star Lounge of Voyager of the Seas
After the show at Studio B, we went to check out the hiphop family class at Star Lounge, Deck 5. It was not bad, quite fun working out those moves alongside with the others! L had quite a bit of fun. The Star Lounge is in a theme that makes you feel you were transported back in time to the 1960s period.
Flow Rider on Voyager of the Seas
L wanted his Flow Rider again so off we went. This time round, the queue was super long. Apparently, as it was the last day, hence most people decided to seize the last few opportunities to ride the Flow Rider. We gave up on the queue as some people came in big groups. So 1 or 2 people will help the other 5 people to queue, then when nearing to the front of the queue, they will get their friends to join in the queue, thus helping their friends. So if you want to play Flow Rider, go early, don't wait till the last day.
Dinner at Sapphire Dining Room
Dinner at Sapphire Dining Room was superb again.
We had 2 mains each, lamb shank and the garlic tiger shrimp. The shrimp was not tiny, it was huge and fresh and chewy. It was super filling and good. Really, if you were to dine on Voyager of the Seas, try to have all your meals at Sapphire Dining Room. The meals are super good. I think they are best known for their steak and lamb shank.
The waiters and waitresses also prepared a farewell performance for us. It was quite a sight and interesting experience watching them dance and sing.
Review of Royal Caribbean Production Show 'Music-in-Pictures'
Next, we went for Royal Caribbean's Production Show, 'Music-In-Pictures'. We enjoyed the show very much, it was a fantastic performance. Indeed, a must-go! The singers and dancers were really good, the vocals were great!
Review of the Library at Voyager of the Seas
We also got ourselves a board game at the library and got engrossed into the game.
In no time, he was winning the game AGAIN, he never give people (me) chance. Then a couple asked us to teach them how to play the game and we ended up playing 1 more round, the more the merrier! It was a relatively quick game. Quite funny. If you're coming for a cruise on Voyager of the Seas, you might want to try this quick game, its called SORRY!.
Review of the Hot Tub on Voyager of the Seas
We went to check out the pool party while we soaked in the hot tub. My favourite activity on the cruise.
Expectation: Foam party, with foam flying around. Hot babes splashing alcohol around and people dunking themselves with cocktails and alcohol.
Reality: Families dancing to Korean pop songs, no foam. no drunkards, 100% family-friendly pool party.
We tried to catch up with the k-pop songs while being in the hot tub. Yes, us dancing in the hot tub. HAHA. Pretty good HIIT workout in the water.
The Overnight Bag that You are Supposed to Pack
So we were supposed to prepare a overnight bag, and leave our luggage outside for the staff to collect. That's what the instructions were about. But we were too lazy to pack. Our luggage were rather small. So we rather bring our luggage out of the cruise ourselves. If you have alot of things to carry and much rather the staff assist you in bringing your luggage out, you can try this option. Have your overnight bag with you while you leave your bulky luggage outside your door. Fuss free for you!
Voyager of the Seas Review (Day 4) (Royal Caribbean Cruise)
They had sectioned us into multiple batches. Oh, and on the 3rd day, they will return you your passports. There is a timing for it which they will inform you when you are on board.
Breakfast at Dining Room was 6.30 am to 8 am.
Whereas, for Windjammer it was 6 – 8.30am.
Only for Cafe Promenade, it was 6 to 9.30am.
So you can guess which restaurant we went for breakfast? BINGO! Yup, we went to Cafe Promenade for breakfast. We couldn't get up so early for breakfast at Dining Room or Windjammer. After our breakfast, we went to queue up for alighting the cruise. Again, it was a long queue that cleared very quickly. i think we got out within 30 minutes, including clearing luggage check and so forth? Super efficient.
As with all my holidays, it just ends too soon. Thanks for bringing me on this cruise, L. Thank you for this holiday <3
TL:DR (Voyager Of the Seas Review Summary)
What to pack for cruise
Toiletries ( they only provide 3 in 1 body + face + hair soap)
your usual packing list
Things to do on Voyager of the Seas
FlowRider – I recommend you to go at the start of your cruise as the queue tends to be shorter, such as waiting for a few mins ride per person only. if you go on the last day or second last day of the cruise, expect to wait longer as the queue is superrrr long
Rock Climbing – it is an auto-belay system, so you climb all the way to the top and you release yourself and free fall down the auto-belay system. Do it if you are comfortable with the auto-belay system.
Mini Golf – quite fun when I anyhow whack my golf balls around
Table Tennis – they have 4 tables
Hot Tubs – The cruise have 4 of them. 2 were indoors at the adults-only section, and another 2 facing the giant screen where you can watch movie screening.
Ice Odyssey Performance – MUST GO!
Music in Pictures Performance – MUST GO!
Family hip hop class – pretty good workout for the family
Magic Show – not bad
Movie Screenings – at the top of the deck. i love soaking in the hot tub while watching my movies. Feel like a Tai Tai
Basketball Court
How to plan your itinerary on the cruise
Use the Voyager of the Sea Cruise Compass, it contains all the information you need (timings of activities, locations of the amenities, restaurants available). They will update it daily and put the cruise compass in your room.
Where to eat onboard
Breakfast – you can try the complimentary breakfast and choose the timings that you want
Lunch & dinner – go to Sapphire Dining Room (free), but if you are willing to pay, you can try the restaurants available in the cruise (I only dined at the Sapphire dining room and windjammer during the trip).
Sapphire Dining Room has fewer menu options but it is fine dining and food is delicious, super good. Order their lamb shank, steak, their red meat are generally super good. I didn't have a good experience with their pasta though.
Windjammer has a wide buffet selection but it is more casual dining and food is so-so. I took their frog legs, it tasted like powder.
snacks/ supper – anytime when you're hungry, head down to Cafe Promenade for snacks. Food is available 24/7.
If my review has helped you in your cruise planning, do share it with your friends. If you have any questions, shout it out in the comments!
About Author