When I was young, we used to have an air purifier but we didn't use it much as it was very noisy. To add to it, I am a light sleeper, so you can imagine, each time we switch on the air purifier, I would have a hard time falling asleep. Hence, shortly after nights of having difficulty sleeping, we stopped using the air purifier and it was given away. 
Hence when Cosmo approached me on this, I researched it and found that it is the most advanced air purifier in Singapore, I was quite skeptical. But I was wrong, so wrong.
Let me share with you more about the air purifier, so what is so special about it?
What is Cosmo Pro Air Purifier?
This Cosmo Pro Air Purifier comes with a revolutionary 5-in-1 HEPA filter and an AL-powered PM2.5 Sensor. 
5-in-1 Filter
Medical Grade H13+ HEPA Filter
Activated Carbon Filter (neutralises odours, absorbs formaldehyde) 
Cosmo Anti-Bac Shield (prevents growth of bacteria)
Photocatalyst Filter (kills harmful substances through light energy)
Pre-filter (filters large particles)
Other Specifications of it:
5 year warranty (if terms & conditions are met)
Night light function
Soft as a whisper (20dB)
Coverage Area: Up to 100m²
Healthy Ion Release Function
Aerodynamic 360° design for air purification in all directions
AI-powered PM 2.5 counter for 99.9% accurate readings 
It is originally at $699 but at the time of writing, there is a huge discount, and it is priced at $499.
They also offer FREE same-day delivery within Singapore. (well, that's good news if you want it quick!)
First Impressions of Cosmo Pro Air Purifier
I ordered the purifier and selected the delivery date, on the day itself, they delivered the parcel promptly. 
When I saw the packaging, I was horrified. Oh my god, the air purifier is so big! But it was very nicely packed and well cushioned within.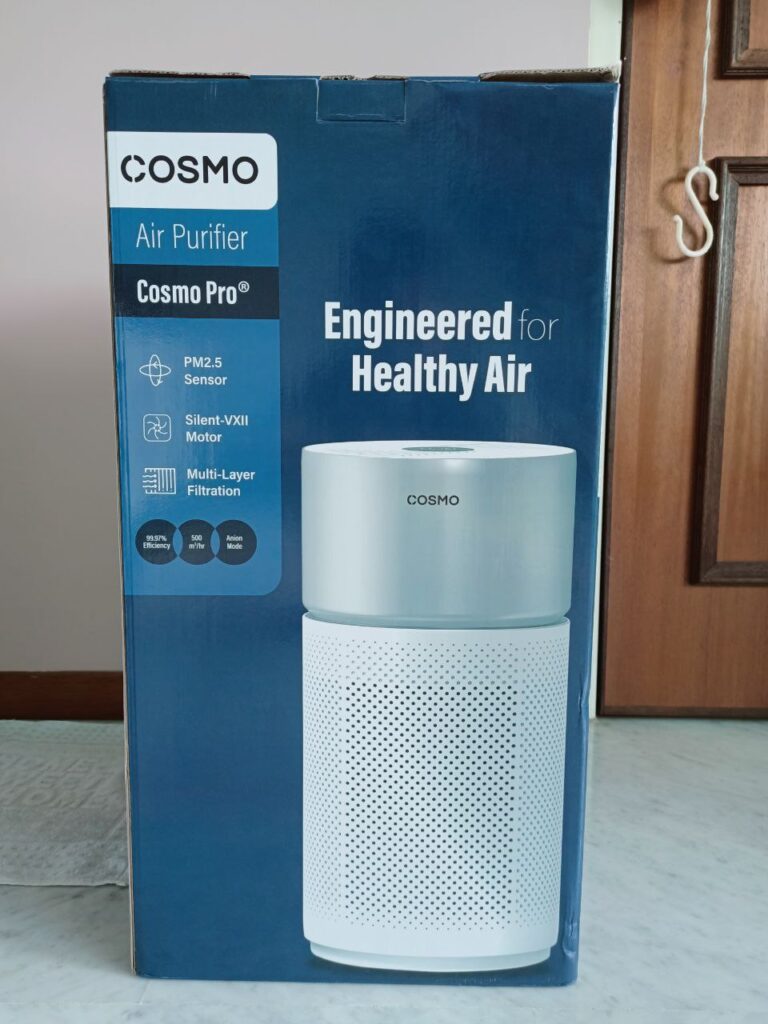 What are the dimensions of the Cosmo Pro Air Purifier?
Height: 58 cm
Width: 29cm
How to set up the Cosmo Pro Air Purifier?
Very simple, the husband was the handyman and he removed the filter from the plastic wrap.
This filter is a composite filter that filters for the following:
volatile organic gases (VOCs), 
odor, 
secondhand smoke, 
tiny particles (PM2.5) , 
pollen, 
mites, 
allergen, 
bacteria/virus. 
So there are multiple layers, namely, pre-filter, Cosmo Anti-Bac Shield, H13 HEPA filter, Active Carbon filter and Photocatalyst Filter.
The aerodynamic design allows for air purification even in areas with poor ventilation or air flow. The strong outer structure provides for longer lasting, more durable air purifier and it is highly resistant against any potential physical damage.
And just slide the filter in, with the external cover closing on to it. There will be a "tiap" when you slide it in.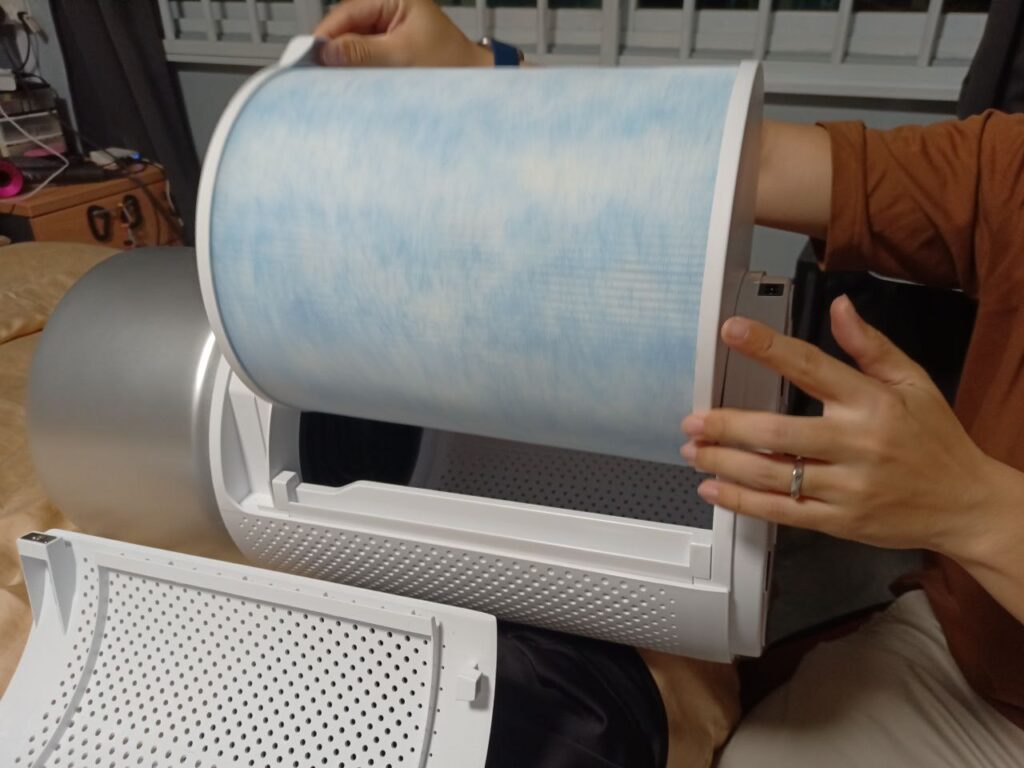 How we used the Cosmo Pro Air Purifier
So you can see there are 7 symbols there, it is like a touchpad.
The air quality in my room is pretty good. It was green all the time. My husband and I have a sensitive nose, so having it helps to keep the room air even cleaner.
5 – UVC button – kills bacteria and viruses
6 – Anion Button
7 – Timing Button
8 – Power Button
9 – Wind Speed Button – when  I go to sleep, I tap onto sleep mode and the lights go off. Then when I'm awake and want my air to be purified, I usually use the low fan speed. 
10 – Filter Reset Button
11 – Wifi Button
So the first thing I must say that I was very impressed with is the sound. When we toggled the sleep mode, I couldn't hear the sound at all and I was able to sleep comfortably. No more struggling to sleep with an air purifier.
Cosmo Pro Air Purifier Phone App Control
The packaging comes with instructions to install and set up the phone application control.
So with this tuya application, I can control my air purifier remotely in real-time. I think this will be perfect with parents with kids or elderly parents at home, one can control the air purifier remotely without the hassle of travelling back to switch on the purifier.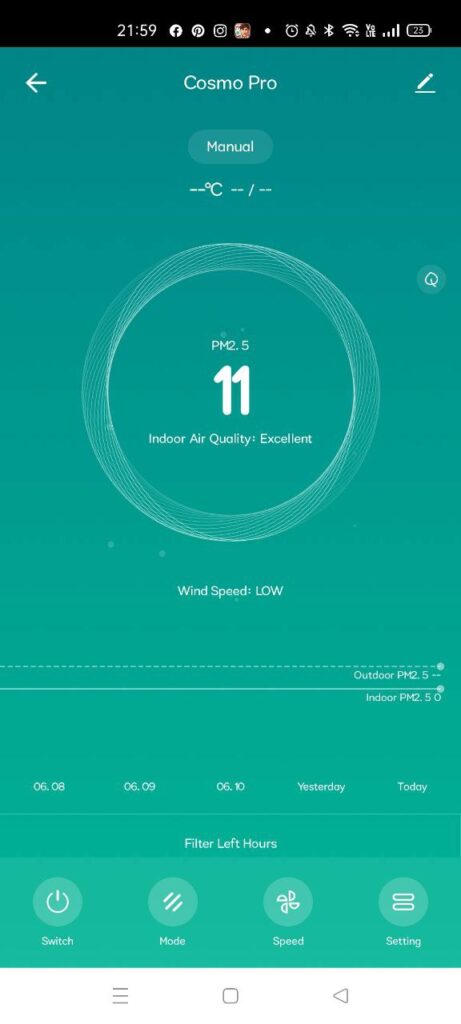 Parents with children, you will be delighted to know that there is a child lock function via the phone app. You can keep your little ones safe as well as to prevent them from changing the settings on the air purifier. 
Cosmo Pro Air Purifier Certifications
CE Certified – Cosmo meets European Union standards for health ,safety and environment protection under the Radio Equipment Directive
RoHS – CE Certified – Cosmo compiles with EU's Directive, the Restriction of the Use of certain Hazardous Substances in Electrical and Electronic Equipment (RoHs)
IEC – CE Certified – Certified product safety for electrical and electronic equipment, devices and components under the CB Certification
GB – CE Certified – Cosmo meets quality & safety checks and is in compliance with Chinese GB standards.
Verdict
If you are a pet owner, this will be suitable for you. The carbon filter layer is fitted with an antimicrobial agent called Pet Guardian. It works together with the activated charcoal to effectively neutralise odours especially with pets. It neutralises organic matter that causes foul odours from cats, dogs, small pets like rabbits, guinea pigs, hamsters, and birds.
Although on the website it states that it can improve skin complexion, I have not used it for a long time enough so I don't see any changes in my skin complexion yet. But I can assure you that it is silent when in sleep mode, and won't disrupt your sleep.
Would I recommend to try the product? Yes, totally! BUT, do note the purifier is quite bulky, see measurements above, so make sure you have some flat surface to place it. If your room is too cram, with not much space, then I don't really recommend it due to the space constraints.
Also, as i'll be doing renovations for my future flat, friends have recommended me to use an air purifier to get rid of the VOCs from carpentry, so it will be of great use.
So what products does Cosmo have, other than air purifiers?
Well, they have Cosmo Quantum. Singapore No. 1 Technologically Advanced Water Dispenser.
Originally priced at $2,298, it is now at $1,599. (30% discount!) 
It also comes with 1x FREE filter set (worth $159) and 2-year warranty (worth up to $500). Don't say I bojio ~
Features of Cosmo Quantum:
Tankless Water dispenser
6 Steps Purification Care Process
Cosmo Quantum UV: UV LED Self Sterilisation
Cosmo Quantum SS: Enhanced Sterilisation with stainless steel piping and comes with the child lock function (yay for parents!)
Cosmo Quantum UV:
Cold 3ºC -10ºC | Lukewarm 30ºC – 45 ºC |
Hot Water 40ºC -94ºC | Extra Hot Water 85ºC -96ºC
Cosmo Quantum SS:
Cold 1ºC -10ºC | Lukewarm 30ºC – 45 ºC |
Hot Water 40ºC -94ºC | Extra Hot Water 85ºC -96ºC
Cosmo Singapore
Showroom Address:
Opening Hours:
Monday to Sunday: 11am – 5pm
Opening hours for Labour day – 11am to 5pm
Phone: +65 6864 9634
Email: enquiry@airpurifiers.sg
This post is written in collaboration with Cosmo. It is a sponsored post. However all thoughts are my own and from my own experience. 
About Author