Thanks to the boy's super advance planning for my birthday dinner.
I got to travel the world with Andsoforth Singapore, a theatrical themed restaurant dining experience! From London to Japan, we explore different cultures and taste food from all over the world. Instead of the usual restaurant sit down and having a meal. There are 7 themed zones set in destinations from across the world. In each zone, every room is designed to look and feel unique with realistic looking backdrops and interior design. It makes one feel that they are literally overseas! Tunneling underground and finding secret doors to teleport to the other side of the world. 
Even though this is actually a book analysis workshop, it completely wow-ed me over with the multi-sensory affair with international cuisines and well-designed zones inspired by the protagonist Phileas Fogg's far-flung adventures.
So if you are looking for a special restaurant to take your date or planning a friday night dinner or looking for interesting and unique dinner places to impress your date, this is it! Read on for my review on what you can expect and menu of dishes that we relished in.
If you want to check out other date ideas or things to do:
Secret Meeting Location of Andsoforth, Around the World in 80 Days
So apparently, according to the boy, only 24hours prior to the dinner, then they will share the secret location. The boy told me to wear nice, so i dressed up, wore a long dress and heels. Clearly, i did not know what will happen next. He succeeded in surprising me, teehee love.
Covid Measures at Andsoforth
So we waited awhile for our batch to start, when we reached the meeting location, there was another group of people in the first zone. In line with safe management measures, a maximum of 10 guests are allowed in each room at one time, always safely spaced at least a meter apart. Actors and facilitators were wearing face shields and physical contact was kept to the minimum. I felt very safe. After the group in the first zone moved to the second zone, we were ushered in.
Gaiety Theatre in London
Personally, at this portion, i was very impressed by the set design. The last time i read the book was in primary school and i couldnt remember much. Whereas the boy is an avid reader and remembered it quite well. We were guided to make our own cocktail, and it was really good. The boy love it, i sipped abit and felt it was pretty strong, might be too strong for my empty stomach. The boy tanked mine, and was a little tipsy after that. Then we were ushered onto the ship. *excitement* when entering the ship.
Onboard the french ship with Andsoforth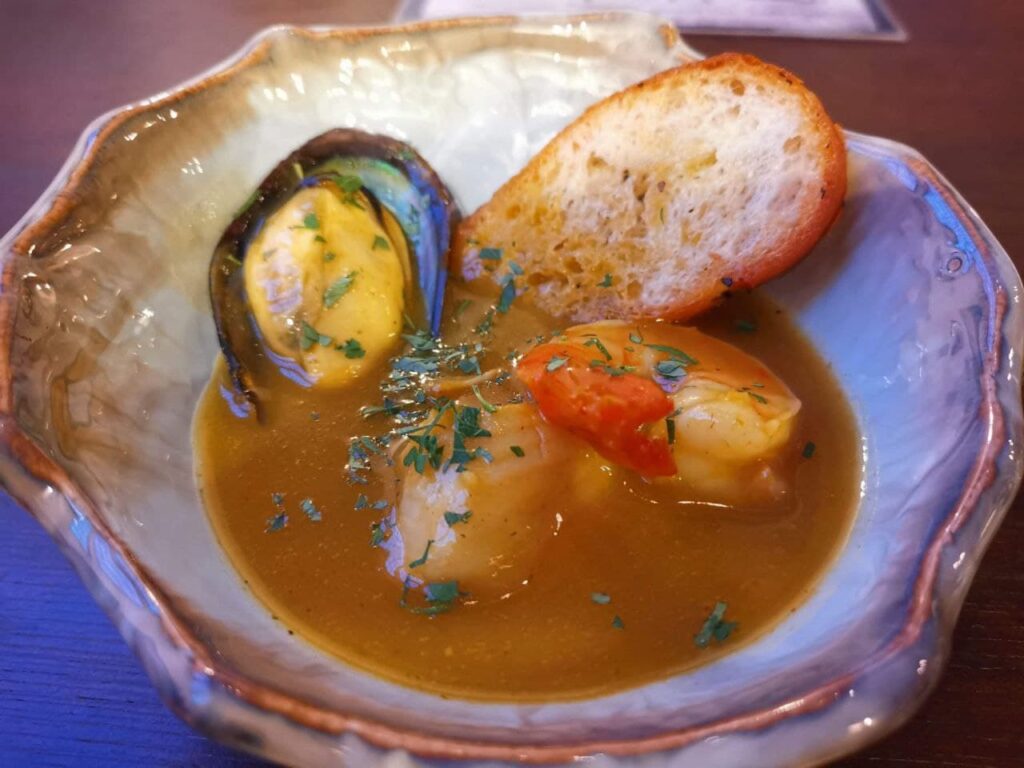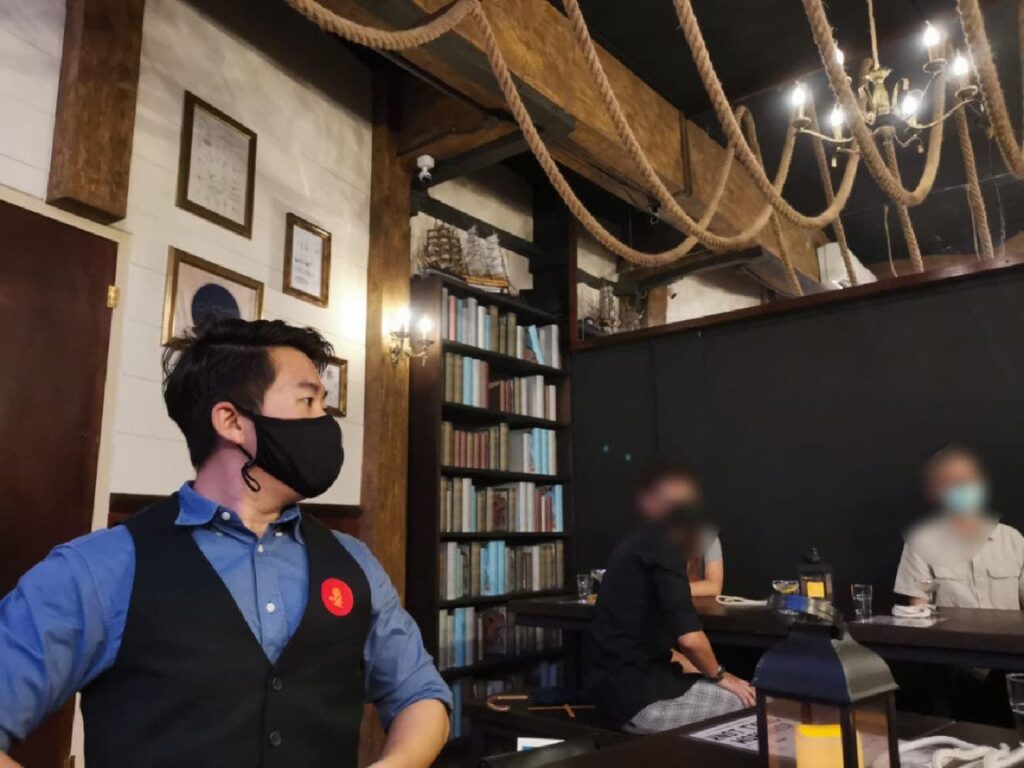 The setup was so detailed, and our first dish, the seafood stew was so good, so delicious. 
The awesome facilitator were all in character with the french accent and taught us life saving methods when on board a ship and as well as rope tying lesson. Needless to say, I got lost halfway. We followed protagonist Phileas Fogg and journeyed with him to the jungles.
Jungles of Culcutta with Andsoforth
We learnt basic survival skill on getting water in jungle and making our first cup from leaf. Guess we know how i'll survive when in jungle. And as the whole experience is 2.5hours long, its about 20minutes in each room. So I rushed through my food, im a terribly slow eater. 
This part was epic, we tricked one of the guest to run into a secret door, actually the door can just slide to open but he ran and headbutt in. it was EPIC. 
He was like," can i trust you"
We like," yeah can, u run and the wall will open"
He ran and BAM!
"I TRUSTED YOUUUUU!"
Hahahahhahahha, so funny soo so sooo funny.
Kowloon Canton Railway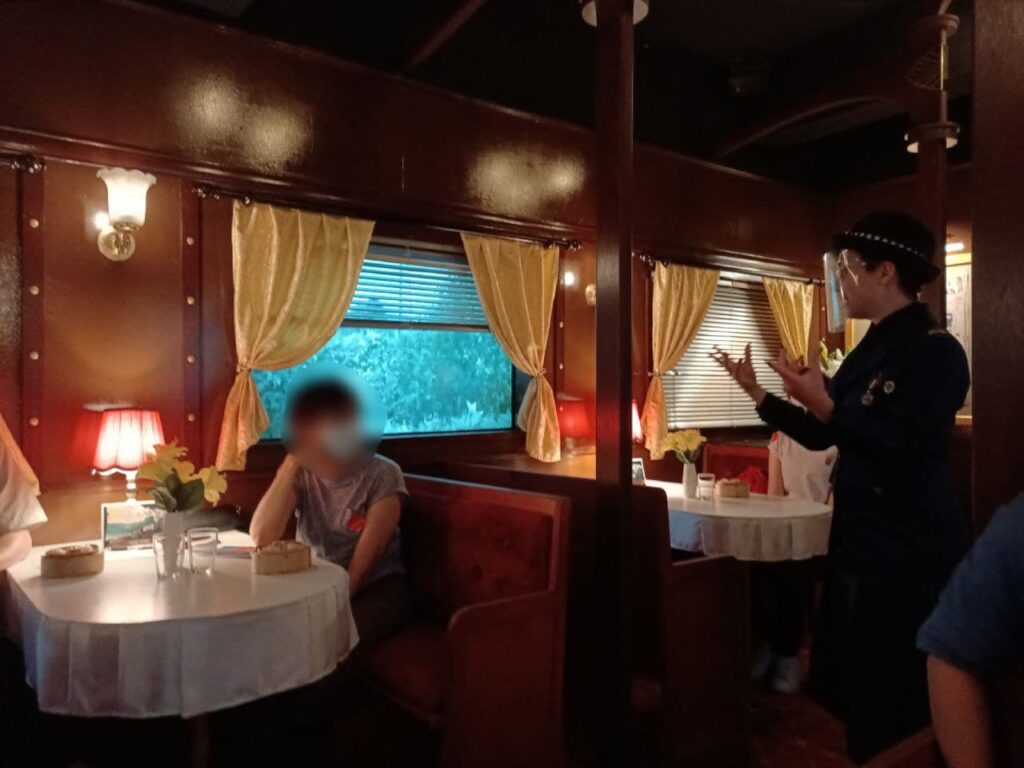 I literally felt like i was on a railway train, the setup was just so amazing. They even had tv at the windows to make it look like you are really in a moving train, and the tables gently vibrating, just like how it is like in a moving train. We learnt to add flair to English letter writing to each other. We had yummy dimsum here, it was so good. Wish we can have more than 20mins in each setup.
Coal Pits of Fukuoka
So i was wearing heels. Luckily i was wearing low heels as the boy mentioned, wear nice, but something you can walk with. We might be walking quite a bit. We disembarked our train and climbed into the coal pits of fukuoka. With the naturally uneven rocky walls, it really felt like we were in a real coal mine! And again, i was mesmerised, may i tell you, i love climbing in little holes and rooms, yes, i love escape room, especially those escape rooms that require players to climb here and there. I LOVE THEM!
I was just speechless beyond words. IT WAS SO COOL!!!! Our coal miner head had soft shell crab donburi for us with a hot sake. The boy enjoyed his sake and mine, i think you know who the drinker is now. Hehe. We learnt to differentiate different kind of rice grain to make the hot sake. It was so amazinggggggg, pity my photos just don't do justice to the setup. And we got out of the coal pit and travelled to the hot air balloon.
Enroute to the Hot Air Balloon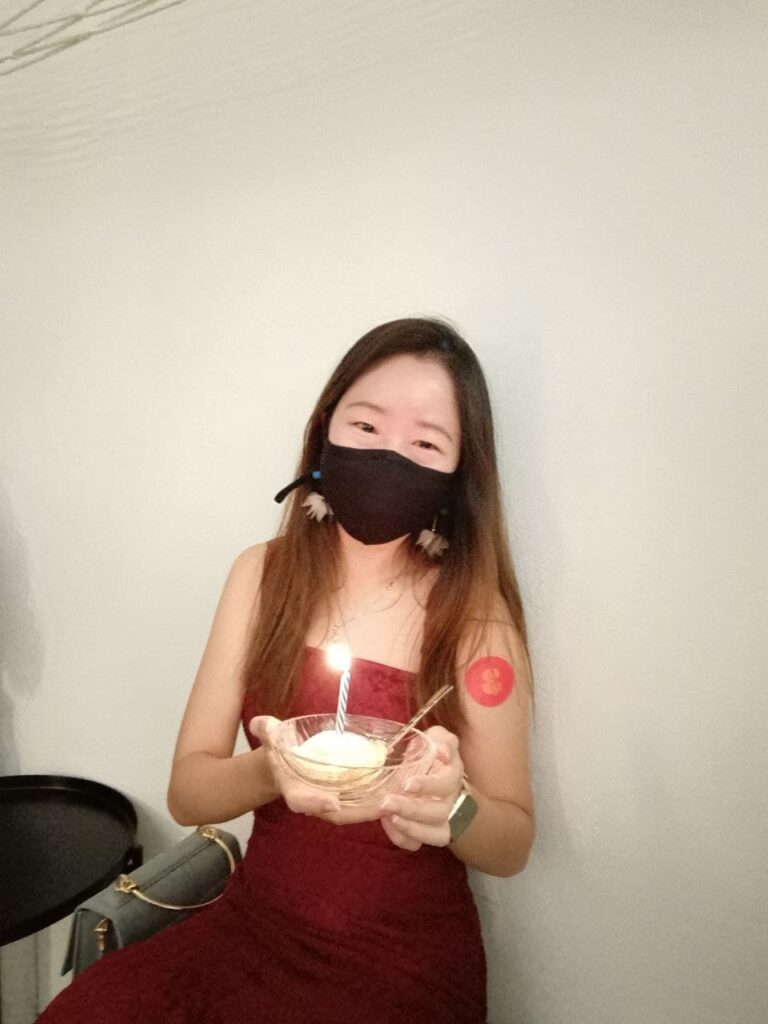 Our circus lady head, oh my i always wanted to try those dry nitrogen ice cream and yay, tried my first one. At this time, the lady and everyone sang birthday song to me, i forgot i was wearing my mask and tried blowing my candle to no avail.
Gosh, feeling full from the little meals in the little setups. Ice cream was the perfect dessert to end it all.
Travelling from Yokohama to New York on Hot Air Balloon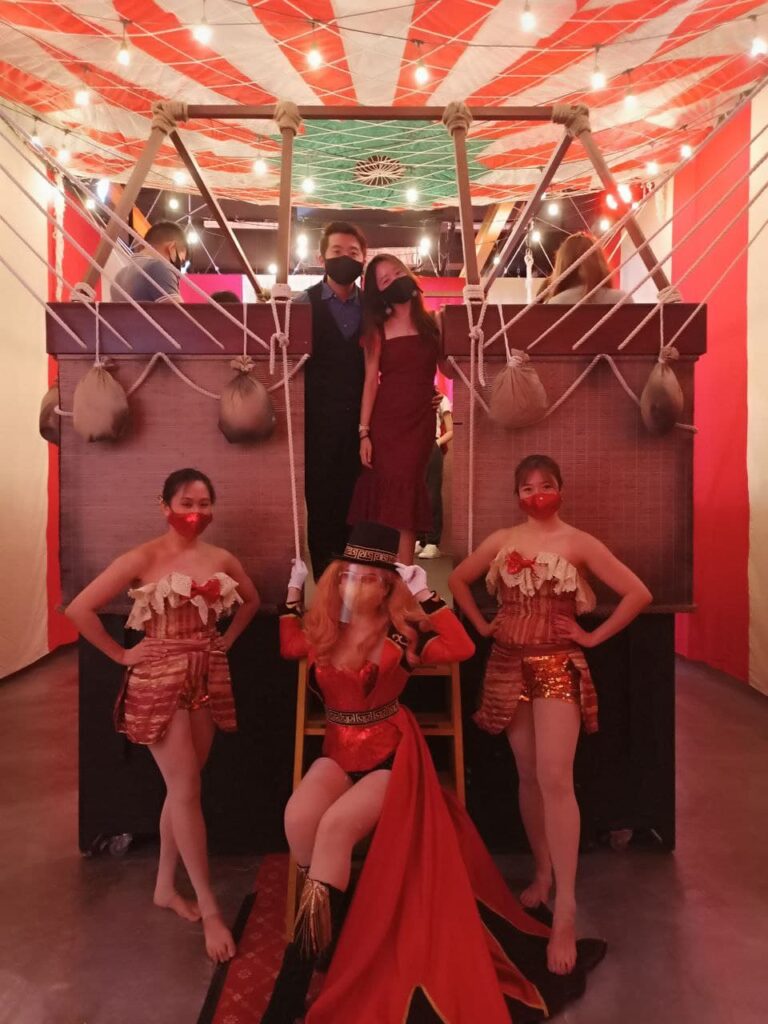 We climbed onto the hot air balloon, oh my and behold acrobatic trapeze performance by the performers! So dainty and graceful. What an exciting adventure!!
And WE CONQUERED THE WORLD IN 80 Days with Andsoforth!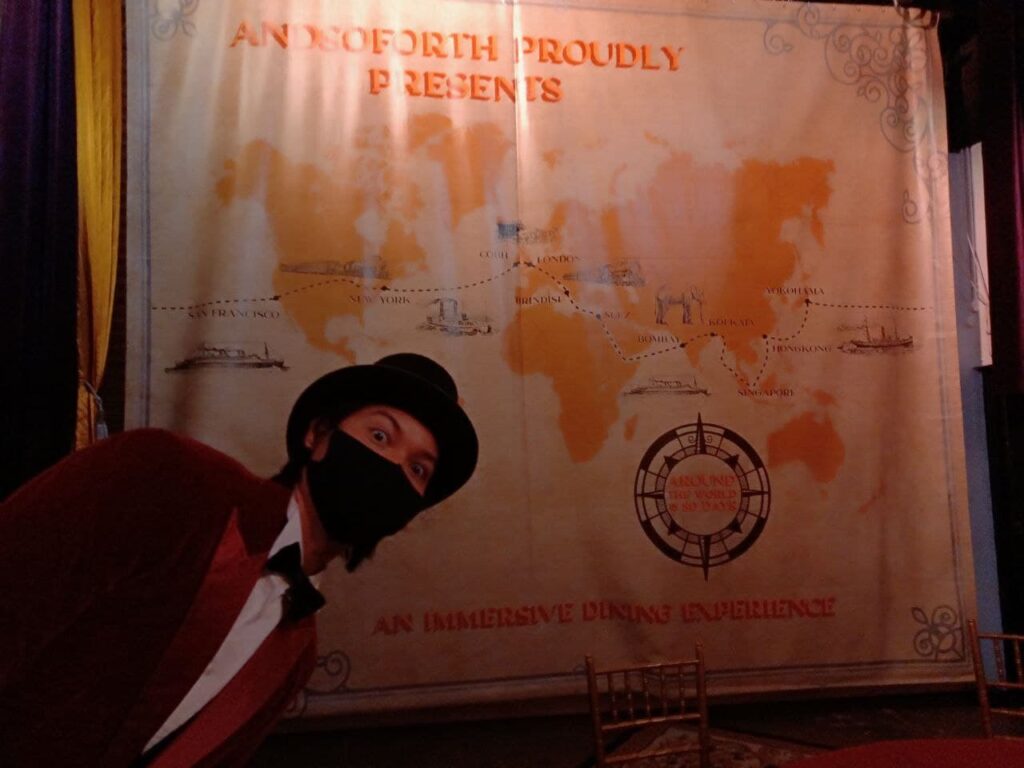 Featuring our last facilitator for the day and we had a mini-game, I forgot most of the stuff as i was busy admiring the setup and chomping my meals down.
My verdict
I think it's really suitable for special occasions, like anniversary, birthdays! Love it so so much! This themed restaurant is entirely different from the usual run-of-the-mill special occasion dinner. 
The entire dinner was so captivating, the sheer amount of rehearsal that has gone into it, with the facilitators completely in character. Their high energy level and careful pacing with the participants, its just so impressive! 
So, if you want to bring your special person for a unique dining experience, go for Andsoforth! By the way, I'm not sponsored, im writing this review on my own accord.
Frequently Asked Questions on Andsoforth
Is Andsoforth Halal?
I checked their website , when booking your tickets, you can state your dietary restrictions and they will do their best to accommodate.
How much is the ticket to Andsoforth? 
It cost $128 +$5(booking fee). For 2 people, it's $266.
Please share this article if you think it's awesome!
Follow me at @simplypeiqi on instagram!
About Author