Frog legs are the best thing ever, super yummy and the texture is just so good. But not many places can cook good frog legs. I'm a victim of that, I've a couple of times gone to Tze Char stalls, order frog legs and hoping to have a satisfactory meal, but it is always a hit and miss, the last time i ordered frog legs, it was so bad that the frog legs texture was like eating chicken, I couldn't even finish my meal.
So when the boy brought me to this Eminent Frog Leg Porridge Seafood Restaurant at Geylang, oh my god, it was so delicious! I heard of their competitor G7 Frog Legs Porridge, but I haven't tried that yet. Maybe next time I'll try it and we shall see which one is better!
What is Frog Leg Porridge
So frog leg porridge comes in two ways of cooking, some boil the frogs directly in a pot of plain porridge, that's a very healthy way to eat it. The goodness of the frog legs goes directly into the porridge. The other way is cooking the frog legs in different kinds of sauces with an assortment of spices, and that's what we got at Eminent Frog Porridge Seafood Restaurant.
In case some of you start to say, don't you feel cruel eating them? Their poor little bodies. To be honest, last time when I was overseas, we ordered frog legs and I dont know why, I went to see how they prepared the frogs, and I regretted it completely. I couldn't eat frogs for a period after it. But till one day, my dad enticed me with nice frog legs, oohhh i'm back eating them. It helps that I try not to think of frogs when I eat them, i just focus on enjoying the yummy frog legs. I can't help it, I love eating frog legs.
Are frog legs healthy for us?
Based on my research, frog legs are super rich in protein, omega-3 fatty acids, vitamin A and potassium. I see my research screaming yes to me. So yessssss, they are healthy for us!!
The Eminent frog porridge seafood restaurant adopts a coffeeshop style. Other than selling their trademark frog legs porridge, they also serve side dishes, it's like a tze char stall with specialisation in frog legs.
What you should order at Eminent Frog Legs Porridge Geylang
As it was just the two of us, I was afraid of over ordering so we got ourselves the buy 2 get 1 free frog with spring onion, which we regret later on for not ordering 4 frogs in the first place.
So they cook their frogs in an assortment of sauces and spices, they have it in the following ways:
| | | | | | | | |
| --- | --- | --- | --- | --- | --- | --- | --- |
| * | Frog with Dried Chili(Gong Bao Ting Gai) | 1 Frog | $8 | Buy 2 get 1 free | $16 | 4 Frogs | $22 |
| * | Frog with Spring Onion  | 1 Frog | $8 | Buy 2 get 1 free | $16 | 4 Frogs | $22 |
| | Frog boiled in porridge | 1 Frog | $8 | Buy 2 get 1 free | $16 | 4 Frogs | $22 |
| * | Frog with Chicken Essence | 1 Frog | $13 | Buy 2 get 1 free | $21 | 4 Frogs | $27 |
| | Frog with Chinese Herb Soup | 1 Frog | $8 | Buy 2 get 1 free | $16 | 4 Frogs | $22 |
| | Frog with Garlic & White Pepper (nowhere else available) | 1 Frog | | Buy 2 get 1 free | $16 | 4 Frogs | $22 |
| * | Special Home-made Chili Frog (nowhere else available) | Minimum | | Buy 2 get 1 free | $16 | 4 Frogs | $22 |
Those with * are their popular dishes.
I strongly recommend getting the Frog with Dried Chili. We didn't get them as I was feeling heaty so we decided to go with less spicy sauces.
For the Frog with Chicken Essence, maybe this one is good for students who are preparing for exams, eat already will excel in studies, parents can bring their kids here ;P
Promotion at Eminent Frog Porridge Geylang in Singapore only
Buy 2 frogs get 1 frog free : $16
Buy 3 frogs get 1 frog free : $22
Buy 4 frogs get 2 frogs free : $32
Buy 6 frogs get 3 frogs free : $48
We got the Buy 2 frogs get 1 free frog option: frog with spring onion, order 1 porridge for the boy and a bowl of rice for myself, a cup of homemade barley drink, that was good as well!
The frog porridge at geylang singapore
The porridge was very well cooked, the boy loves this kind of porridge where they cook until the rice grains defragment. For me, it's more of the plainless of the porridge. I love it if my porridge is cooked with zero condiments, like really plain plain. Sometime when chicken stock is added in, i'm like danggggg, there goes my plain porridge, become chicken porridge.
But the porridge they prepared was pretty good, I like it too! Not too flavoured but quite plain porridge. Me like it!
Frog Legs Porridge with Spring Onion at Geylang Singapore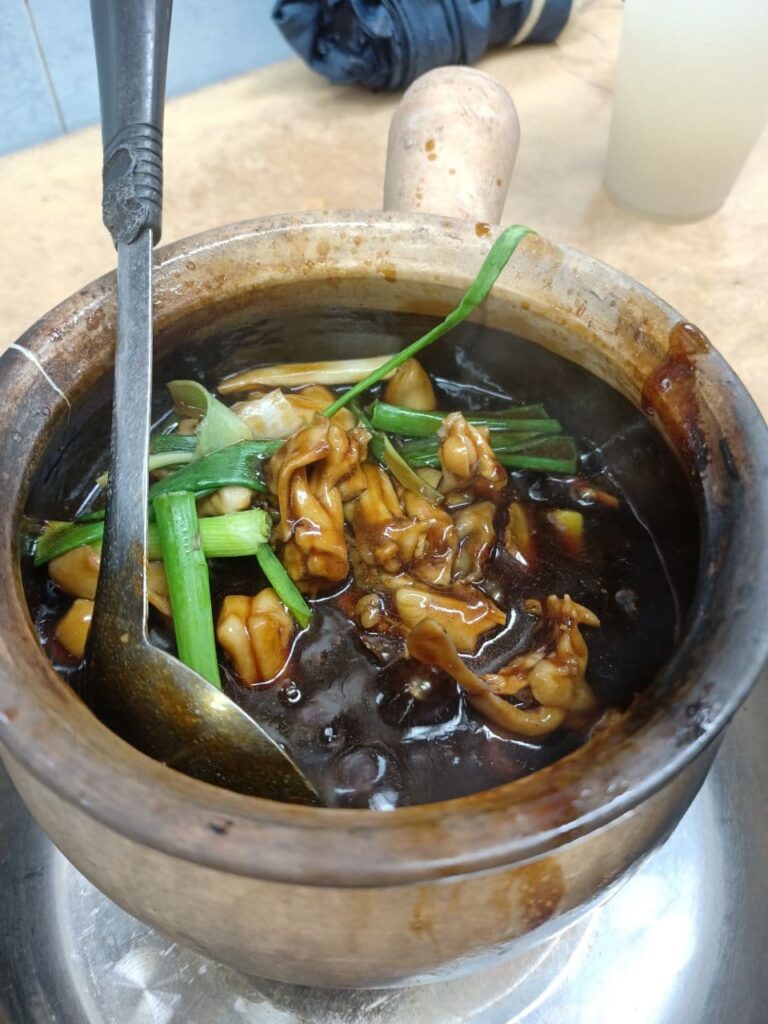 There is a funny story behind this pot. I was asking the boy,  I thought we ordered 3 frogs so there should be 3 pots? Why only 1 pot?
Turns out, there were 3 frogs in 1 pot.
The frog legs were so tender and juicy. The sauce was savoury and it complemented the frog legs very well. Eat it while it is hot, when the frog legs turn cold, it won't be that nice anymore.
So the boy poured the sauces over his porridge and he was in heaven. I tried a bit of it but i'm still prefer my white rice. #ricefam
After finishing our frogs halfway, this is when I regretted, danggggg, should have ordered more frogs. I COULD EAT ALL ON MY OWN!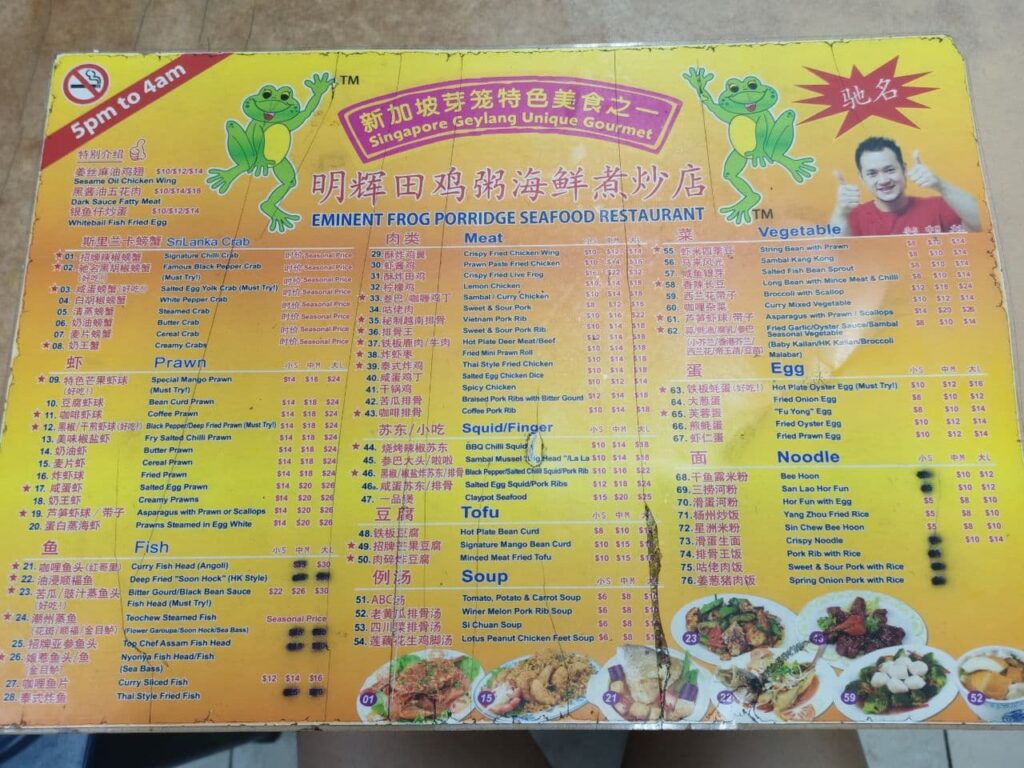 So we got their side dishes menu.
They serve a wide range of tze char dishes but we just got ourselves the long beans with minced meat and chili. It was not bad, quite a big spread.
I will definitely come back again for more frog legs.
Eminent Frog Legs Porridge Seafood Restaurant
Address:
323 Geylang Road (Lor 19), Singapore 389359
We took the mrt to paya lebar and walked about 10-15 minutes to the shop.
Opening Hours:
5pm to 4am Daily
Please share this article if you think it's awesome!
Follow me at @simplypeiqi on instagram!
About Author