In my past few posts, i've been sharing my reviews on steamboat such as Pot Addiction, Shi Li Fang. Let's cover more on western food today.
Hailing from Korea, Mad for Garlic is the first garlic-themed Italian restaurant in the world. All of their dishes contain garlic and even the decoration in the restaurant is adorned with garlic. Hint, look at the image, look at the ceiling light, it is surrounded by cloves of garlic.
With their unique and innovative garlic-infused Italian cuisine and premium selection of wine, Mad for Garlic was shot to popularity as one of Korea's most famous restaurant chains. The first restaurant was opened in Apgujeong, an affluent entertainment and residential district in South Korea. Currently, there are more than 40 branches in Korea, 3 restaurants in Hong Kong, one in Taipei, and one in Singapore. 
Personally I wasn't a fan of garlic, if i should say, i hated garlic. But a friend recommended us to try their food and gosh, I must say, I was completely won over by their dishes. 
Mad For Garlic Menu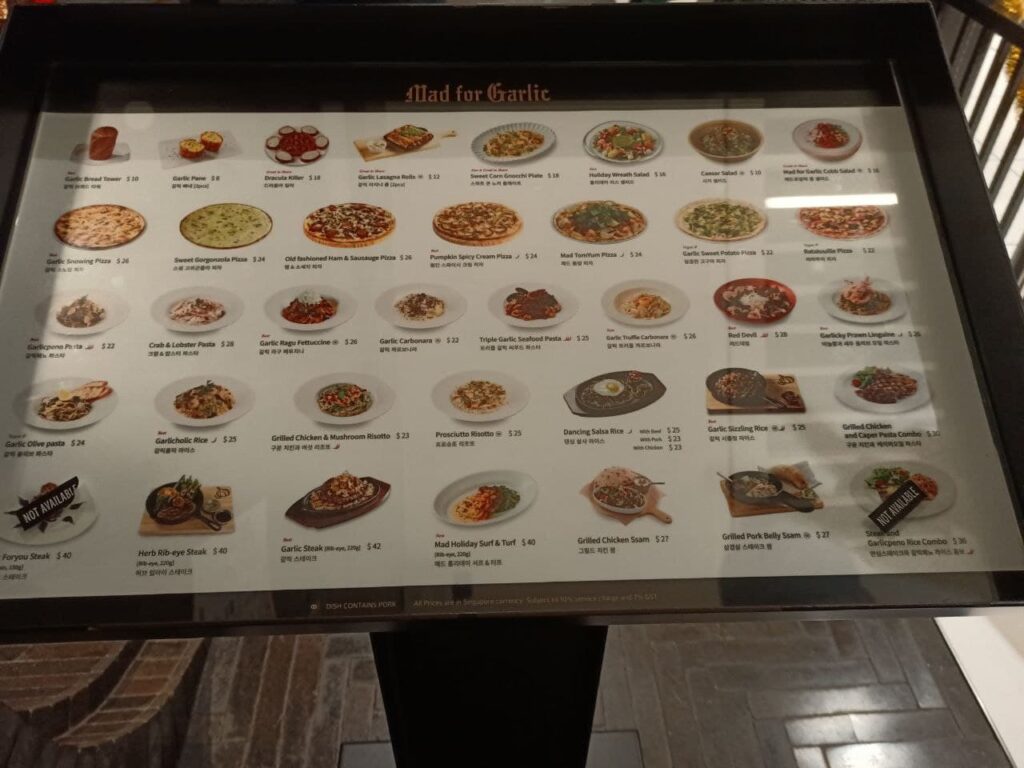 The boy actually wanted to try the Garlic For You Steak as it is one of the hot favourites but it was not available. 
Mad For Garlic Promotion
We used the Entertainer 1-for-1 promotion to order main menu items. Super worth it when we both got ourselves steaks. So it's like buy 1 get 1 free.
What we ordered
I ordered the Herb Ribeye Steak, and to my horror, the whole garlic in my plate, instantly pushed it to the boy for him to devour. And he devoured it happily.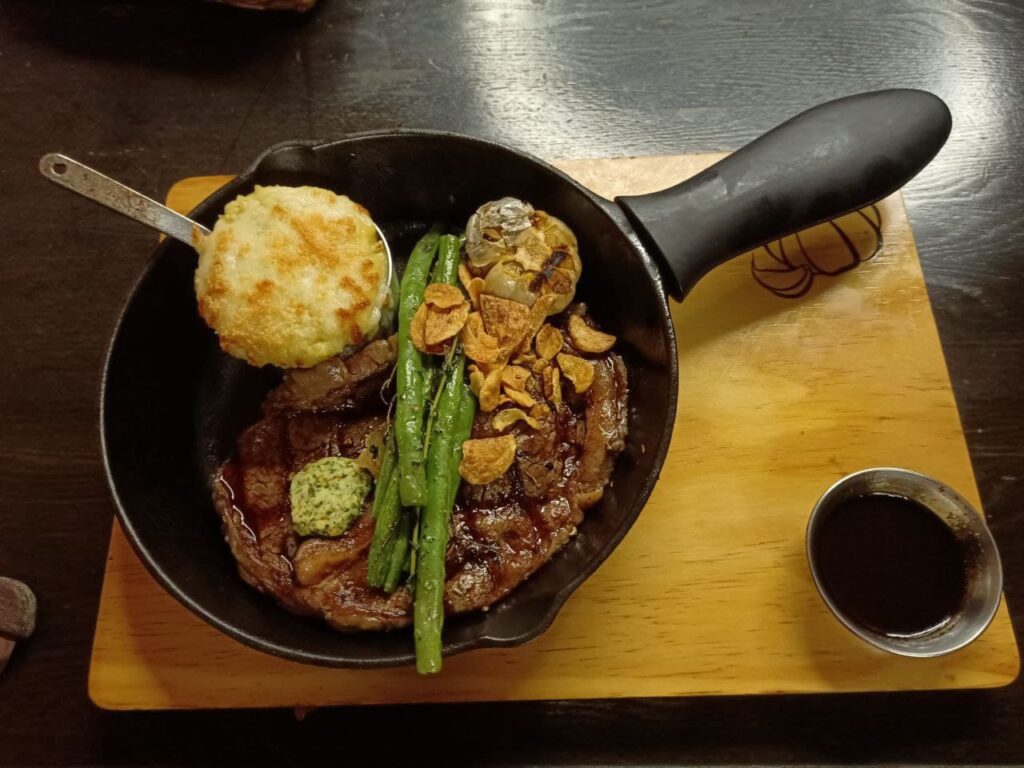 But the steak was super super good.  The outside was nicely grilled and the inside was heavenly – the meat was so tender it practically melted in my mouth and it was packed full of umami flavour and meat juices. I dare-say chef Gordan Ramsey would definitely approve.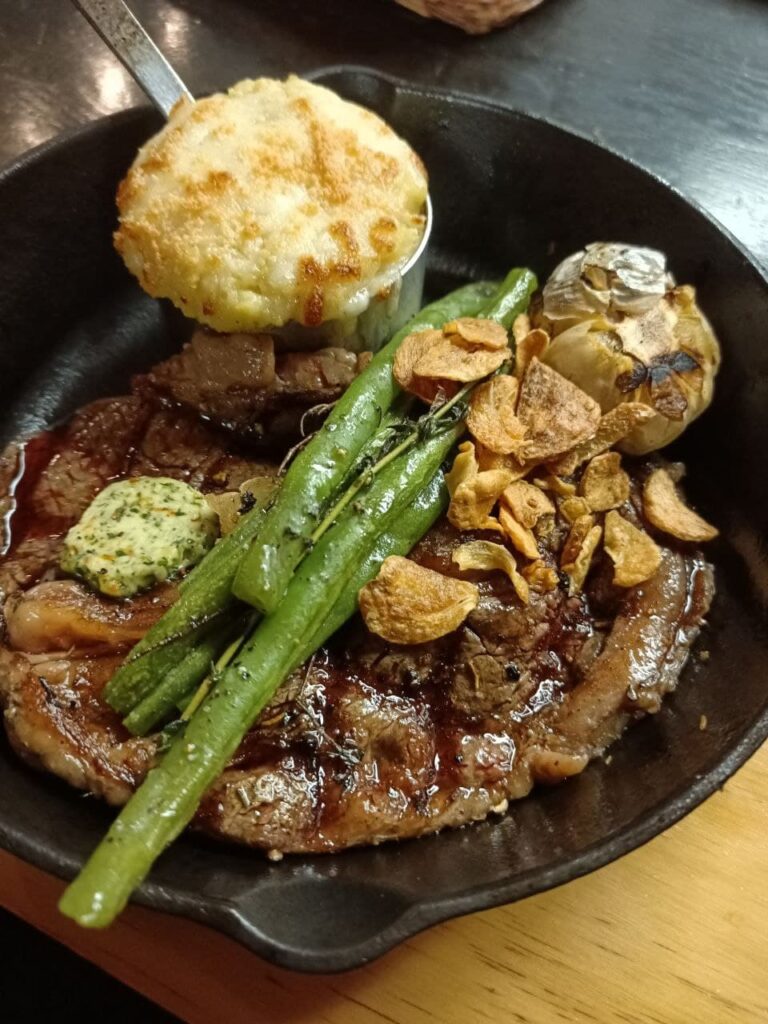 I was super afraid that the garlic bits would make my steak garlicky and icky for me, but I was so wrong. And the sweet potato, it's heavenly I tell you. 
It was so good that I just kept stuffing myself with the sweet potato non stop.
Mind you, i'm not a fan of garlic but DAMN, I'm a FAN OF MAD FOR GARLIC NOW. The dishes were so good, my steak was prepared medium-rare. So the waitress brought our food out, asked us to check if it was medium-rare before they marked the order as complete. 
I completely did not expect that, I was like, dear dear, help me check if my steak is medium rare. 
And the boy got himself the Garlic Butter Steak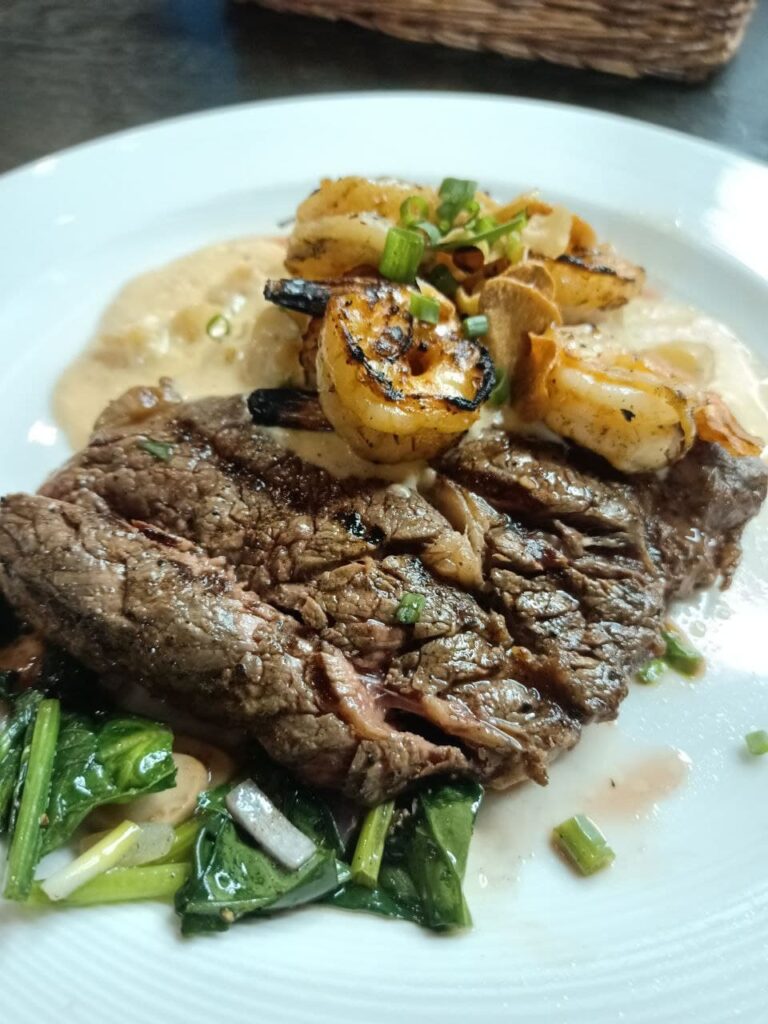 It was good as well. The steak was prepared well, as above, it was grilled perfectly leaving the meat really tender and juicy. As for the flavour, it was slightly less flavourful than the Herb Ribeye but if there was no side-by-side dish for comparison, the umami goodness would still pack quite a punch. 
We got ourselves a red wine cooler to share. Although not strictly a drink to be paired with the steaks we ordered, the sweet and slightly tart drink gave a really refreshing end to a rather satisfying meal. 
Mad For Garlic  – one and only outlet in Singapore
Location:
3 Temasek Boulevard #02-300/301 Suntec City. Singapore 038983
Opening Hours: 
Sunday –  Thursday: 11:30am to 10:00pm
(Last order: 9:00pm)
Friday – Saturday:  11:30am to 10:30pm
(Last order: 9:30pm)
Mad For Garlic Contact No:
Tel: 6238 1930
About Author