If you are a big fan of mala, grilled mala fish is something you have to try. I've always enjoyed the numbness in my mala dishes and as a food content writer in Singapore, I just could not wait to try Tan Yu and write a review about it!
Tan Yu specialises in grilled fish in China with more than 180 outlets and they opened their first overseas flagship store in Singapore in 2017.
Having been to other mala grilled fish restaurants such as Chong Qing Grilled fish, I strongly recommend Tan Yu if you are more into the numbing sensation of the peppercorn.
Popularity of Tan Yu in Singapore
Everytime we go to the Tan Yu flagship outlet at 313, there is always a long queue. You go to the counter and register for a queue ticket, provide your number and they will contact you when your queue is coming. 
Tip: you're in a shopping mall, go walk around, shop while you wait for your queue number to be called. 
Most of the time when we go, there are like 20 people in front of us, but the queue moves quite fast, like 30 minutes wait? 
If you are in a hurry, I recommend not to order. But if you really want, then register for a queue ticket earlier beforehand. 
Tan Yu Menu in Singapore
When you are ushered in, you choose the type of fish you want followed by the fillings to be stuffed into the fish.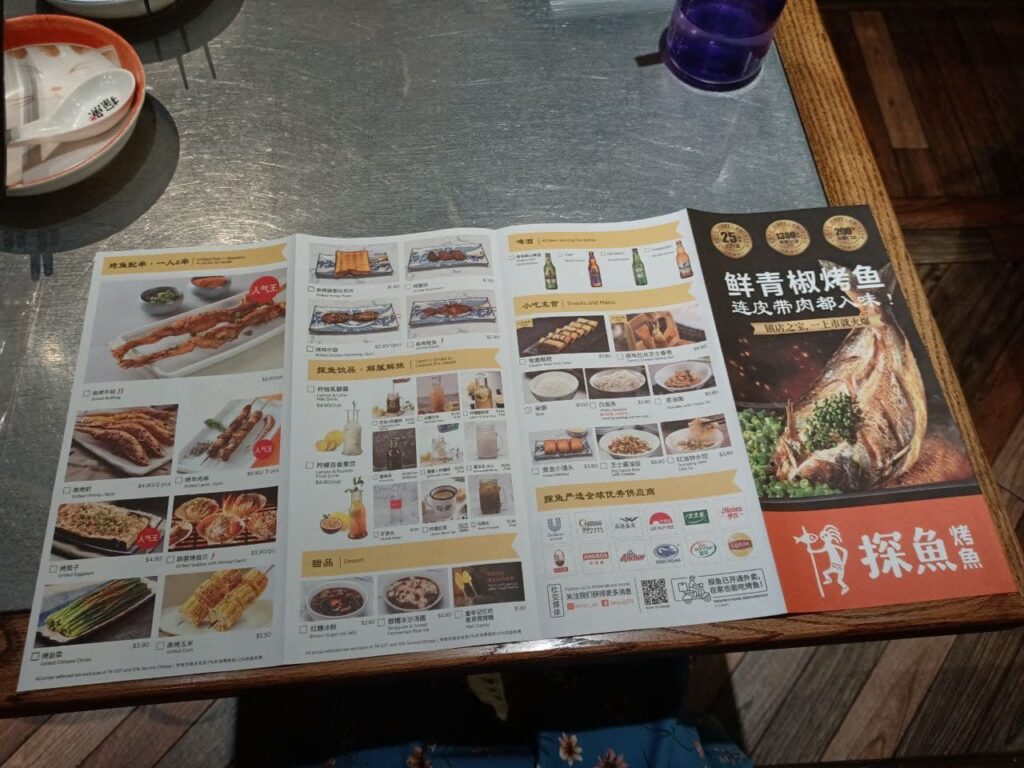 If you are not sure what fish to order, read on for tips!
How to order at Tan Yu in Singapore
Step 1: Choose your fish
They have many types of fish such as limbo fish (1100g), Qingjiang fish(1250g), Limbo fish fillet(800g) and sea bass fish(900g).
If you aren't sure which fish to choose, they have a helpful note at the side of your table to assist you in your ordering.
So in selecting fish, the limbo fish is the juiciest, most tender and flavourful fish. Whereas the QIngjiang fish is firm and delicious. 
If still in dilemma, ask the waitresses. What happened for us was we got the waitress to recommend the combination to us. They are from China and they know their dishes well.
Helpful note on enjoying your grilled fish at Tan Yu Singapore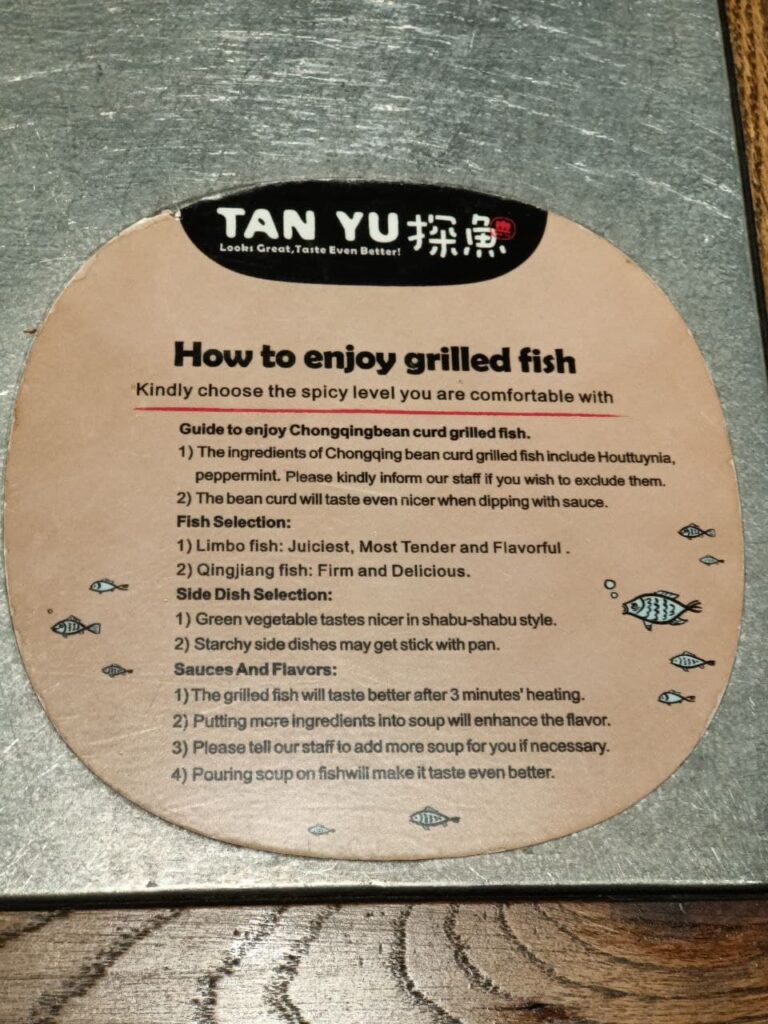 Step 2: Choose the flavour for your fish
There are many flavours available, grilled fish with fresh green pepper (this is their signature and also the one we ordered and super loving it), chongqing classic, non spicy. They also have mala flavour, garlic flavour, pumpkin soup flavour, cumin flavour, mixed chilies flavour, spicy sauce flavour.
They also have the little chilli beside the flavour to help you gauge the spiciness of each flavour. They are super popular for their signature flavour and quite a few times when we went late, it was out of stock, so we did not patronise. 
We tried the mixed chilies flavour and non spicy flavour, surprisingly the mixed chilies flavour was like mala zhong la, not da la. 
Step 3: Choose your fillings for your fish
They term it as add-ons for your fish in the menu. I call it fillings. They have a few price range for it.
For the golden combination that comprises of golden mushroom, potato, lotus root and crab stick, it is $12.90
They have a wide range of vegetables (golden mushroom, potato, black fungus, konjac, long cabbage, beancurd skin, seaweed, sweet potato noodles, beancurd sticks, sticky rice cake, frozen bean curd, seasonal vegetables, lotus root, cauliflower, oyster mushroom) that are priced at $3.50 each.
They have some meat add-ons such as luncheon meat, crab stick and chicken sausage that are priced at $4.80 each.
And then they have some cold dishes that you can have as side dishes.
Tip: when choosing your side dish, take note that green vegetable tastes nicer in shabu-shabu style, starchy side dishes may get stuck with the pan.
Popular Dishes to order at Tan Yu in Singapore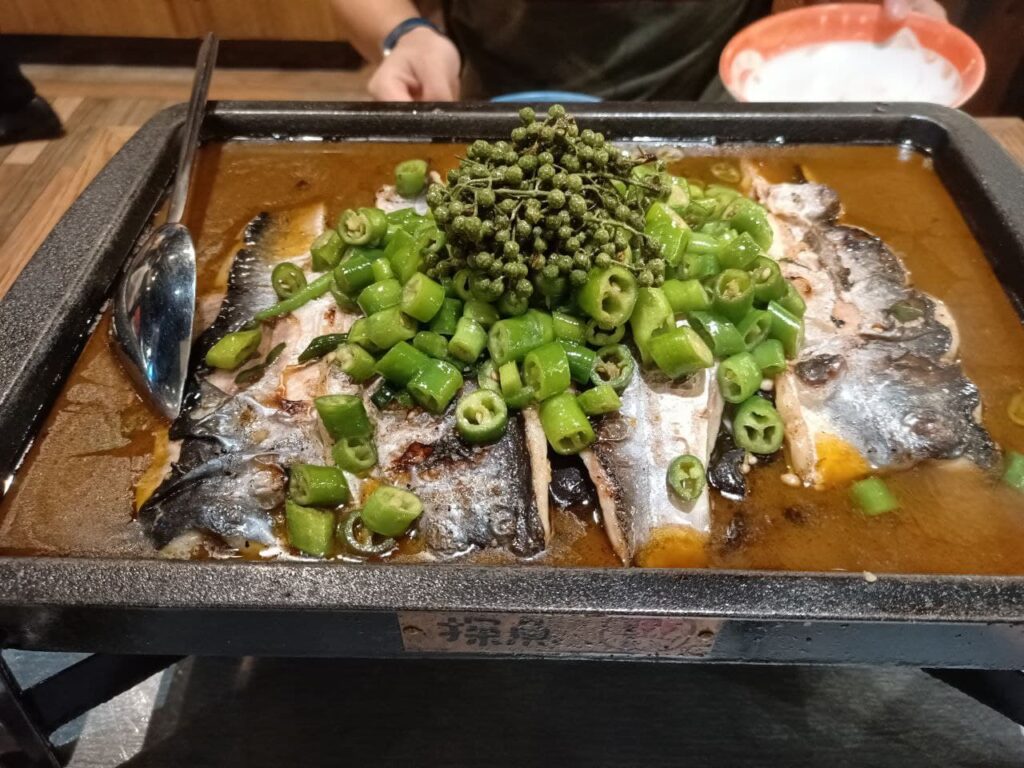 So the first time we ordered what everyone orders, the limbo fish with green pepper. See the peppercorn at the top of the fish? It was heavenly good.
The fish meat was tender and succulent and super duper fresh. We recommend to push the peppercorn into the gravy so that the numbness will be super strong and super super yummy. 
Tip: the grilled fish will taste better after 3 minutes of heating, putting more ingredients into the soup will enhance the flavour, which in our case was the peppercorn.
We ordered golden mushroom (this is a must as it soaks in the gravy and numbness), black fungus (cos its my favourite), sweet potato noodles, lotus root
With great mala fish, one just have to complement it with some cold drinks. 
We recommend trying the lemon & lime juice, lemon & passion fruit drink. It is refreshing from the mala taste. We tried the hawthorn juice but it wasn't my cup of tea. 
All in all, the bill was quite steep at $63.44, so it is about $30+ per pax. But for the freshness of the fish and the heavenly meal, I'm willing to pay for it.
Tan Yu Delivery in Singapore
They also do deliveries via foodpanda, and grabfood so if you want to stay home and enjoy a sumptuous meal of mala grilled fish, it is just a button tap away!
Can I make reservation at Tan Yu
Yes, you can book via the inline app!
Tan Yu Outlets in Singapore
Tan Yu at Somerset 313
Address: 313@ Somerset B3-30/31/32
Tel: 6509 8887
Tan Yu at Bugis
Address: Bugis Junction, #02-45
Enquire at Tel: 6509 8887
Tan Yu at Jurong East, West Gate
Address: Westgate Mall, #B1-01/02
Tel: 6250 6656
Feel like trying other cuisine? Check out my review on nakhon kitchen or pot addiction for some hotpot in this cold rainy weather!
About Author