In my other posts, I shared my reviews on western cuisine at Mad For Garlic, and chinese hotpot at Pot Addiction and Shi Li fang. I also went to try the famous frog leg porridge and had some thai cuisine.
Today I will be covering on Sushi Express, my go to for my sushi fix. You may ask why? Simply because my body gets really heaty easily and sushi is one of the least heaty food. And also, i really am a big fan of Salmon Sashimi. Not a fan of salmon sushi but you get it, salmon sashimi. I love them raw. I hate them cooked.
So lets get back to topic, when we talk about sushi restaurants, most people will usually suggest Ichiro Sushi, Sushiro, Itacho Sushi, Genki Sushi and people always scoff when i suggest 'Sushi Express'. But hey, Sushi Express has fresh food at affordable prices!
Established in Taiwan in 1996, Sushi Express has over 400 global outlets, including several in China, Hong Kong, Singapore and Thailand with over 10,000 employees and hundreds of partnering companies. 
So last weekend, le boy and I went for brunch at Sushi Express Tampines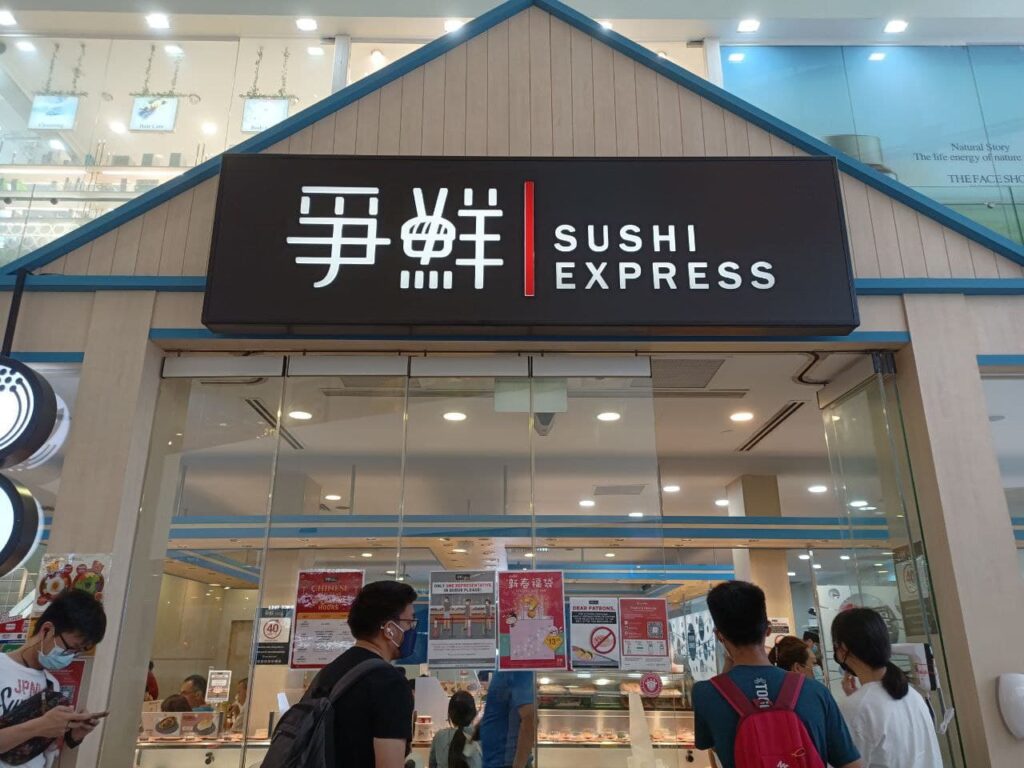 Safe Distancing Measures at Sushi Express
There was a long queue (like 10 pairs) before us when we went to the branch but the queue moves very fast. I went to a blogshop to look at clothes and just when i entered the blogshop, the boy Telegrammed me that he is at the front of the queue. So I quickly made my way back and just in time, safe-entry and we were allocated our seats. 
They erected dividers for each group of customers.
Now the condiments are also prepared separately for us, added customer service, which I like.
Sushi Express Menu
Each time I go to sushi express, I can't recall what dishes they have, the only thing i could recall are the dishes that I always order.
But i've extracted the menu from their website so you can see them all here
Range of Nigiri
Gunkan Varieties
The Sashimi Varieties
The Maki at Sushi Express
Side Dishes at Sushi Express
Desserts
What we ordered
Normally we will just watch the conveyor belt and take dishes from it to enjoy but sometimes if you have waited for quite a while and the food haven't appear, just request from the staff. They will prepare it fresh for you.
Mock abalone
This is one of my favourites, I always order it. Super love it when I'm seated near the chef and they prepare it on the spot.
Cheese Masago
Salmon Sashimi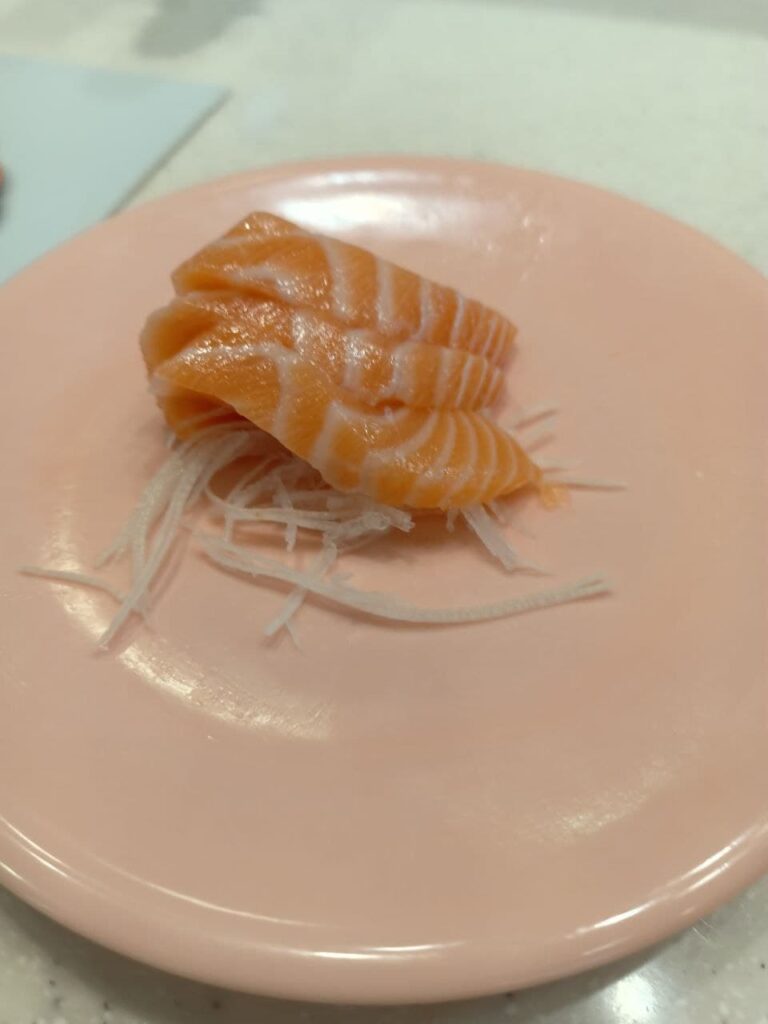 This is one of my favourites. My first love in the world of Japanese Cuisine.
Cooked Scallops Nigiri
Pardon the ugly photos, i love cooked scallops, so good especially when it's freshly prepared.
Fish Nigiri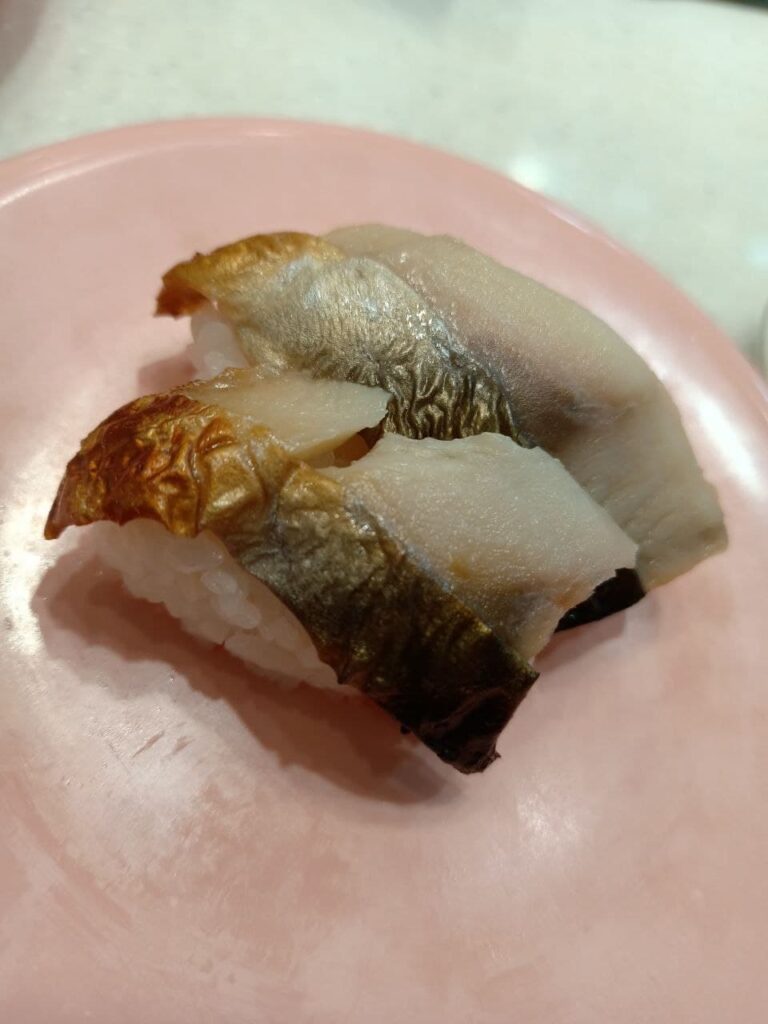 Not my type of fish though
Matcha Mochi
So Sushi Express has seasonal products and I didnt see this on their menu, I believe this mochi must be it!
Previously, we got ourselves some brownie, i think for the price it's quite a steal! Their cream puffs are good! I got it when it was just prepared and it tastes just like ice cream puff. Perfect for me. I don't eat cream, so an icy cold cream puff was good.
Aburi Salmon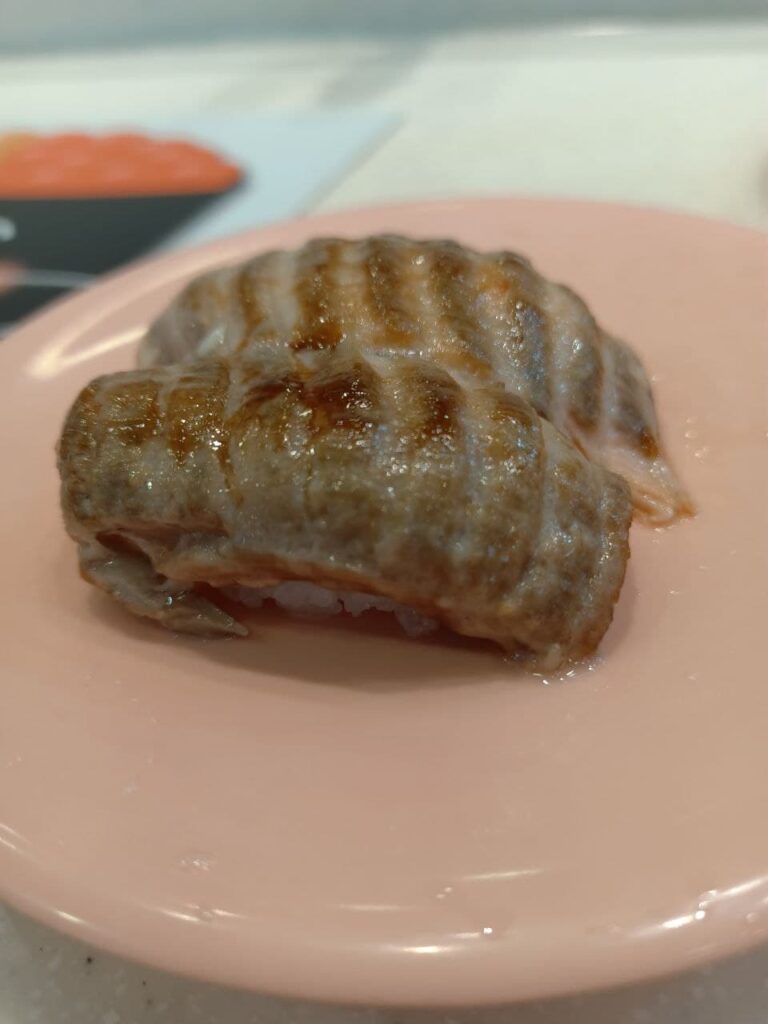 Le boy says that Genki Sushi's Aburi is better. Sorry Sushi Express!
Scallop Lips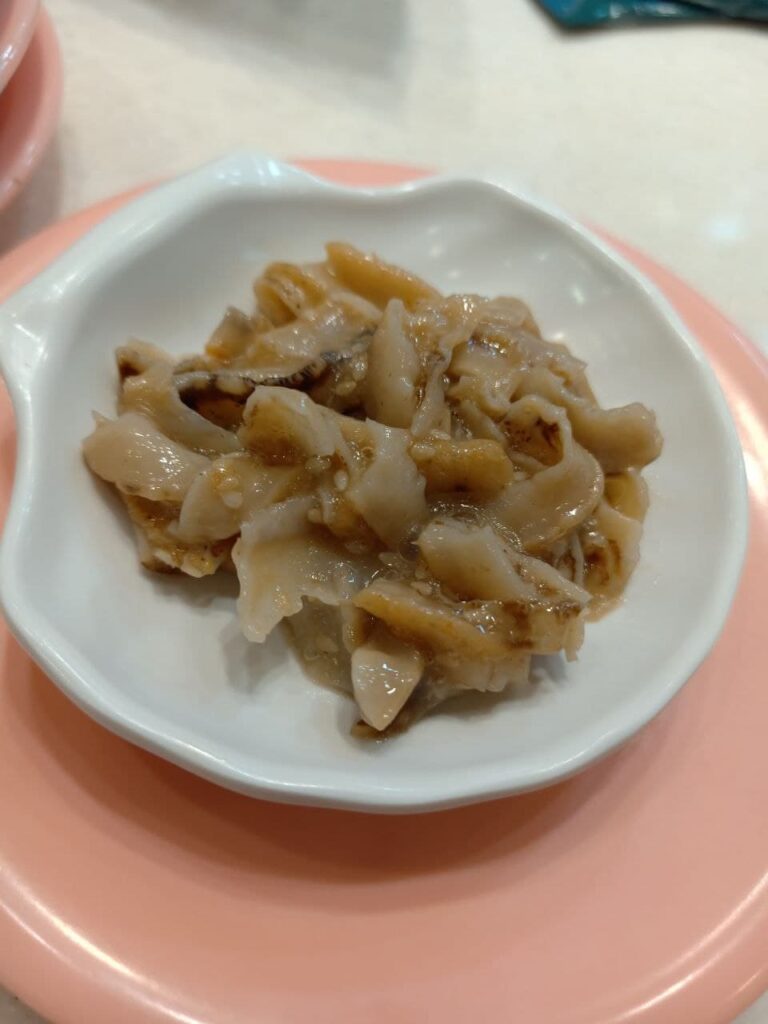 I prefer the whole scallop over this. 
Sushi Express Price Range – Very Wallet Friendly
So I like to go to sushi express because I eat quite a bit, as you can see the stash on the left is mine. I eat more than him sometimes. 
This is one of the stashes when I'm not very hungry. Just normal. And that's like 10 plates.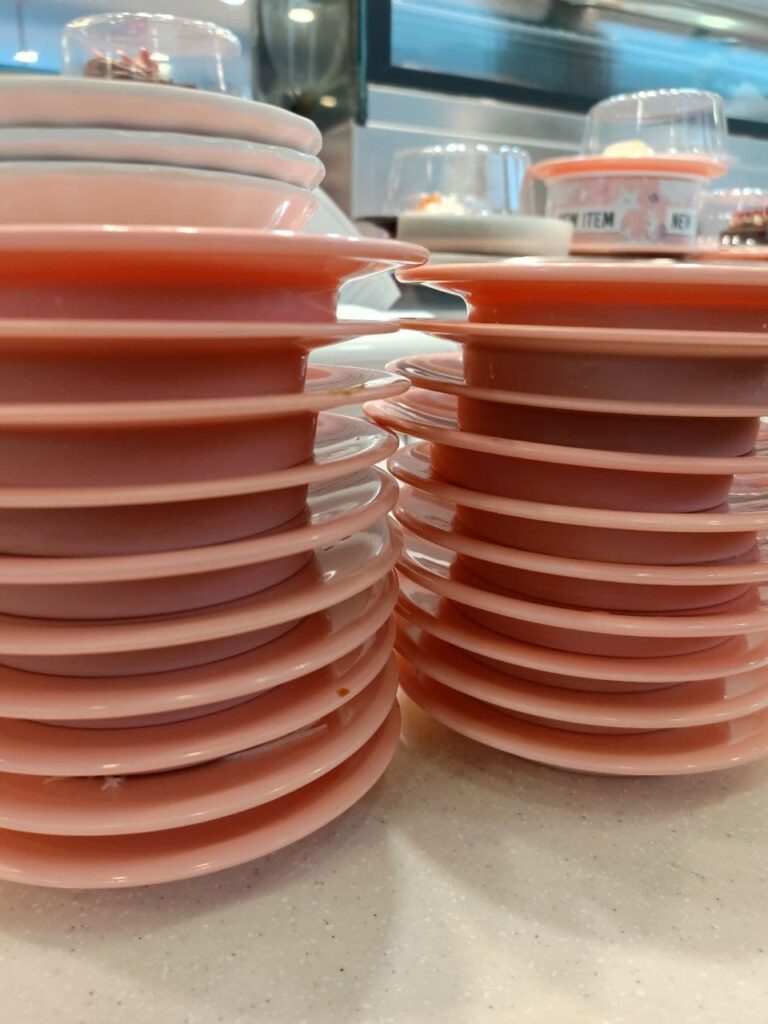 Sushi Express is one of the more affordable ones as compared to Itacho Sushi and Genki Sushi.
They are priced at $1.50++ per plate so I can eat to my fill! Besides, their fish is really fresh, apparently, their ikura and scallops are flown from Japan, and salmon from Norway. So I'm getting fresh sushi at a steal!
FAQ & Order Hacks
Does Sushi Express Have Delivery
Yes they have at Foodpanda , deliveroo . If you want takeout, they have as well!
Is Sushi Express Halal
Unfortunately, i think it isnt. 
How to get the prime seats/best seats
Go for the seats that are near the chef, as that means you can get freshly prepared food. It's like having your own chef while paying the normal price. Normally they will just allocate you the seats but you can request during off-peak timings. 
Sushi Express Outlets Near Me in Singapore
They have many outlets in Singapore at various locations, I've separated them based on their locations.
Central
Sushi Express 313 Somerset 
Opening Hours:
Opens from 11am to 9:30pm daily
Last order 9pm
Tel: 6509 5002
Fax: 6509 5003
Sushi Express Funan Mall
Opening Hours:
Monday to Thursday:
12pm – 9pm
Last order 8.30pm
Friday to Sunday (PH):
11am – 9.30pm
Last order 9pm
Fax: 6970 1695
Sushi Express Toa Payoh HDB Hub
Opening Hours:
Opens from 10am to 10pm daily
Fax: 6592 7409
West
Sushi Express Fairprice Hub @ Joo Koon
Opening Hours:
Opens Daily
8am – 11am (Take Out Only)
11am – 9pm (Dine In and Take Out)
Last order 8.30pm
Fax: 6252 1346
Sushi Express Hillion Mall
Opening Hours:
Opens from 11am to 9:30pm daily
Last order 9pm
Fax: 6265 0115
Sushi Express IMM
Opening Hours:
Opens from 11am to 9:30pm daily
Last order 9pm
Fax: 6563 2749
Sushi Express Jurong Point
Opening Hours:
Opens from 11am to 9:30pm daily
Last order 9pm
Fax: 6316 5795
Sushi Express West Gate
Opening Hours:
Opens from 11am to 9:30pm daily
Last order 9pm
Fax: 6465 9327
Sushi Express Yew Tee Point
Opening Hours:
Opens from 11am to 9:30pm daily
Last order 9pm
Fax: 6732 0769
Sushi Express Grantral Mall @ Clementi
Opening Hours:
Opens from 10am to 10pm daily
Fax: 6777 8557
Sushi Express The Clementi Mall
Opening Hours:
Opens from 11am to 9:30pm daily
Last order 9pm
North
Sushi Express Heartland Mall
Opening Hours:
Opens from 11am to 9:30pm daily
Last order 9pm
Fax: 6386 9921
Sushi Express Hougang Mall
Opening Hours:
Opens from 11am to 9:30pm daily
Last order 9pm
Fax: 6592 2833
Sushi Express NEX
Opening Hours:
Opens from 11am to 9:30pm daily
Last order 9pm
Fax: 6509 5804
Sushi Express NorthPoint City
Opening Hours:
Opens from 11am to 9:30pm daily
Last order 9pm
Fax: 6481 8992
Sushi Express Seletar Mall
Opening Hours:
Opens from 11am to 9:30pm daily
Last order 9pm
Fax: 6702 2559
Sushi Express Sun Plaza
Opening Hours:
Opens from 11am to 9:30pm daily
Last order 9pm
Fax: 6257 0935
Sushi Express Waterway Point
Opening Hours:
Opens from 11am to 9:30pm daily
Last order 9pm
Fax: 6386 7154
Sushi Express Woodlands MRT
Opening Hours:
Opens from 10am to 10pm daily
Fax: 6366 1043
East
Sushi Express Heartbeat@ Bedok
Opening Hours:
Opens from 11am to 9:30pm daily
Last order 9pm
Fax: 6581 9330
Sushi Express Parkway Parade
Opening Hours:
Opens from 11am to 9:30pm daily
Last order 9pm
Fax: 6970 1179
Sushi Express Paya Lebar Quarters
Opening Hours:
Opens from 11am to 9:30pm daily
Last order 9pm
Fax: 6970 1862
Sushi Express Tampines 1
Opening Hours:
Opens from 11am to 9:30pm daily
Last order 9pm
Fax: 6789 8177
Sushi Express Whitesands
Opening Hours:
Opens from 11am to 9:30pm daily
Last order 9pm
Fax: 6585 0984
Sushi Express Tampines MRT
Opening Hours:
Opens from 10am to 10pm daily
Fax: 6970 2767
About Author