Being a noob in atas stuff, I've never gone for a spa in Singapore before, other than the jimjilbbang in Korea when I tried while on my student exchange. When the boy saw a deal on Mothership of Spa-1 promo after 8pm, we decided to try it out as part of my birthday celebration! So if you're planning a date idea or anniversary celebration, can consider bringing your loved ones for a spa treat!
Or if you are looking more at food to try in Singapore, check out my reviews of Shi Li Fang, Pot Addiction, Nakhon Kitchen and Sushi Express!
Okay back to my review on our spa visit, we had a quick dinner at Mum's Touch before going down as I wasn't sure if the vegetarian food would fill me. I'll do a review on Mum's Touch next time if i've time.
Perhaps it was the promotion, there were alot of people queuing. We thought that a booking was done but apparently it wasn't so we just went in as a walk-in customer.
Promotion at Spa-1 Wellness Centre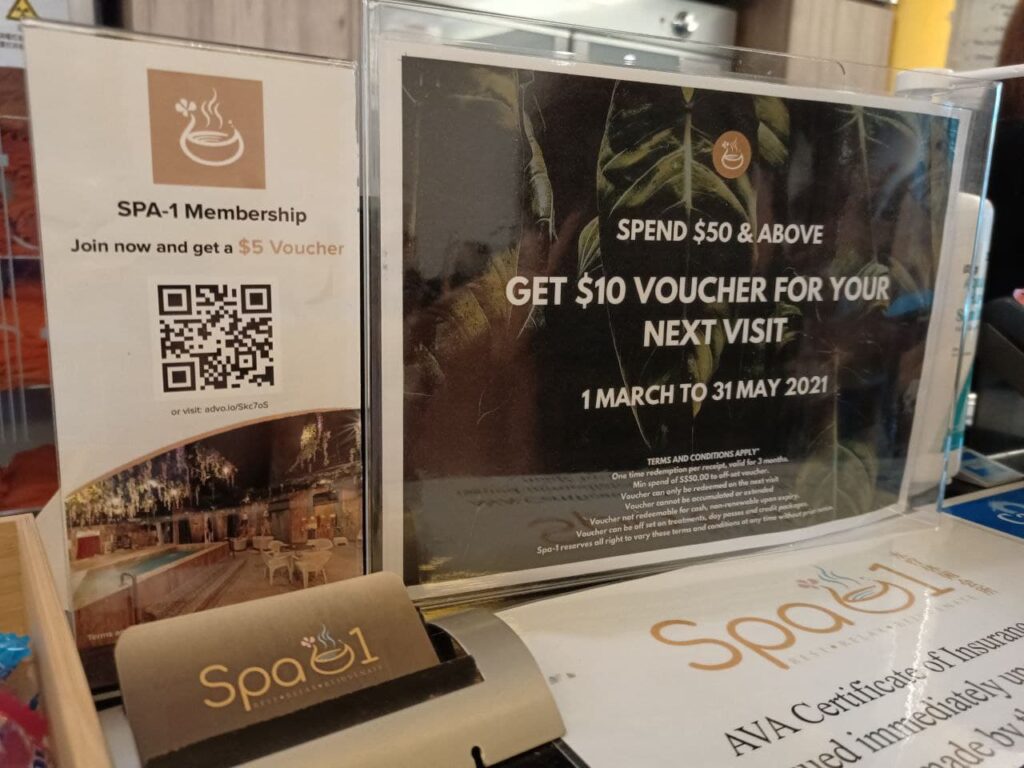 As it was our first time here, we weren't sure if we would come back again. You can sign up as a member and use the voucher on your next visit. As we bought the promo, for 2 pax, it was about SGD60. So we got a $10 voucher for our next visit! But have to use between 1mar to 31 May 2021.
Facilities at Spa-1 Wellness Centre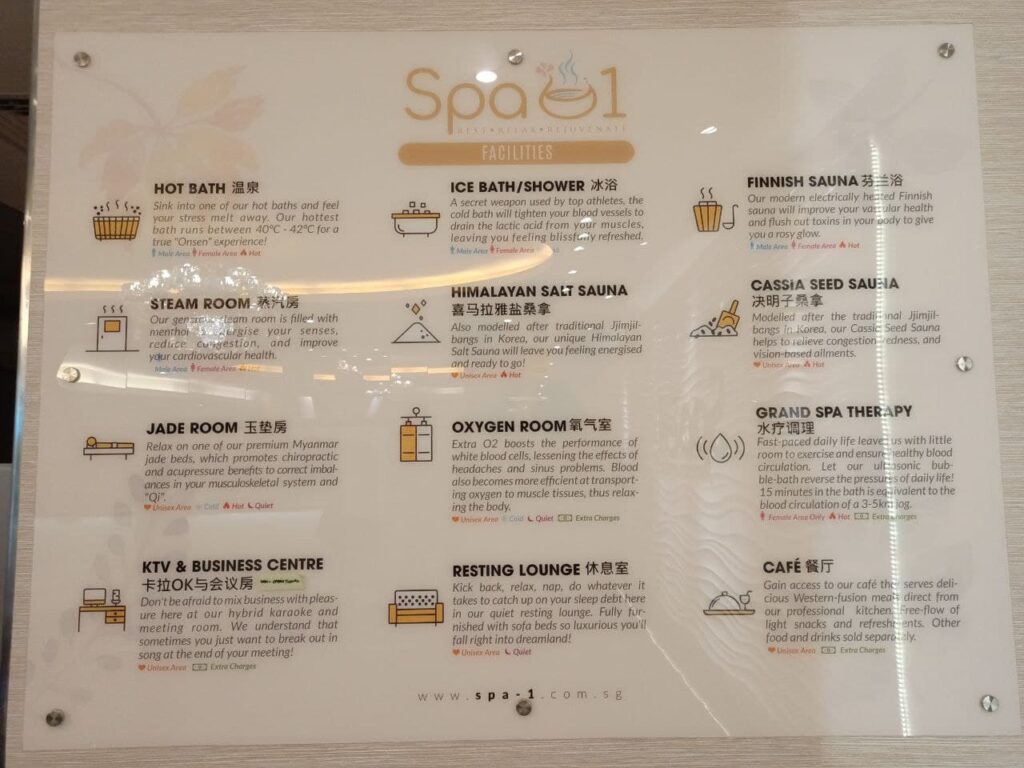 The staff gave a super quick introduction to all the amenities and room and some left the group halfway to eat at the vegetarian cafe. 
Our Review of Spa-1
To be honest, before we went, I've already went to check out reviews on their facebook and tripadvisor. There were mainly good reviews on their facebook and mixed reviews on the tripadvisor page. 
So we already had some mental preparation beforehand.
So let me share with you my honest review of the services and facilities that they have.
Spa-1 Ladies Only Facilities
So, for the ladies side, we have 1 jacuzzi, and steam sauna and an infrared sauna.
Ice Bath/Shower
It is touted as a secret weapon used by top athletes, the cold bath will tighten your blood vessels to drain the lactic acid from your muscles, leaving you feeling blissfully refreshed.
Personally, I was jolted from the coldness. It is indeed, a icy shower. I circled around the shower instead. It was too cold to my liking.
Hot Bath/Jacuzzi at Spa-1
The hot bath is said to run between 40-42 degree celsius. You are recommended to wash yourself with the cold shower before entering the Jacuzzi. Also, we were all handed a ziplock bag containing body towel, face towel, disposable top and panty, and orange top and bottoms. 
I brought my swimming costume to wear, and we wore our disposable top and panty over it before entering the jacuzzi. 
It was super shiok relaxing in it and I love it so much that I didn't want to get out of it!
Steam Sauna and Infrared Sauna
At the female area, we had two types of sauna. The steam sauna is the typical sauna that you encounter at condominium swimming pool's sauna. Whereas the Infrared Sauna is something new, it emits infrared light via specially installed panels and is said to promote healing to muscles, joints and tissues.
I find the Infrared Sauna more tolerable than the Steam Sauna. The Steam Sauna got way too hot for me so I kept finding myself coming back to the Infrared Sauna. 
It is perfect for drying yourself after the jacuzzi. I wore my orange top and bottoms over myself and went out and needless to say, my clothes got wet from my wet bikini. So I would recommend to go to the sauna after the jacuzzi before going out to the cafe or to the other unisex facilities.
You got to wear your orange top and bottom when you walk out of the female area as that's the reception area!
Resting Lounge
It looked damn relaxing and comfy in those huge massage chairs with the ipad screen. I regretted not trying it. Also, I didn't have time to try it. So hence I recommend to go in the day. Read more for my verdict. I'll share the pros and cons. 
Unisex Facilities at Spa-1
Cassia Seed Sauna
For this Sauna, they are modelled after the traditional Jjimjilbangs in Korea, it is said to help to relieve congestion, redness and vision-based ailments. We were recommended not to stay too long inside if we were wearing contacts. 
So for this sauna, there is a little pillow for you to lie on, and you stay in it for 10 minutes or so then you come out. Quite shiok, there is a scoop for you to scoop the cassia seed all over your body, we bury ourselves in it, very shiok. Then when leaving the sauna, there is a brush at the doorstep for you to brush the seed off yourself before exiting it. I love this as well, very shiok!
Himalayan Salt Sauna
This is modelled after traditional Jjimjilbangs in Korea, it is said to make one feel energised after it. I certainly feel this sauna was hotter than the cassia seed sauna. You don't want to step on the salt, it's DAMN HOT! We hopped from one mat to another and laid for awhile before we exit. There were just 3 mats inside.
Jade Room
In this room, they have cold and hot jade beds for you to lie on. Apparently, it promotes chiropractic and acupressure benefits to correct imbalances in your musculoskeletal system and "Qi". So we tried the cold, it wasn't as cold as we thought. It's like the normal coolness you get when you lie on a jade blanket. So we tried the hot, there is a temperature meter for you to adjust so you can adjust the heat level, if it's too hot to your liking, you can adjust it cooler. 
Personally, I still prefer the Cassia Seed Sauna and Himalayan Salt Sauna. I would have liked it more if the cold blanket is super cold. Then this room has alot more beds, I think it was about 4 cool beds and 4 hot beds.
Spa-1 Facilities that have Extra Charges
As we went during the promo, we weren't looking to try the premium facilities and pay for the extra charges. But here are just some of their facilities that they have:
Oxygen Room
The extra O2 boosts the performance of white blood cells, lessening the effects of headaches and sinus problems. Blood also becomes more efficient at transporting oxygen to muscle tissues, thus relaxing the body.
Grand Spa Therapy
Ultrasonic bubble-bath reverse the pressures of daily life. 15 minutes in the bath is equivalent to the blood circulation of a 3-5km jog. 
Food at Spa-1 Wellness Centre
So I obediently followed the staff as she brought us around the facilities and enjoyed myself too much at the Jaccuzi and didnt know that the food was only available until 8.30/9pm. So I didnt get to eat at all. But from what I know, the food is all vegetarian. So I recommend NOT coming after 8pm, rather, come during the day on weekday or on weekend so that you will have time to enjoy free flow food at the cafe.
Massage at Spa-1 Wellness Centre
They offer massages but you have to top up for it.  They have Japanese Shiatsu Massage, Hot Stone Massage, Aromatherapy Massage, Foot Reflexology and facial.
FAQ on Spa-1 Wellness Centre in Singapore
Can I bring my phone into the sauna?
No, there are signs informing you that no phones allowed. But I do see some people sneak their phones in, well if your phone spoils due to the high heat, then you have to bear the responsibility.
What to Bring to go for Spa?
If you are like me, self-conscious, bring your old swimming costume. I wore a loose swimming bikini bottoms in hope of shrinking it. HAHA. Not sure if it really worked though. 
Although they provide toiletries, I always feel safer bringing my own toiletries, you never know if the body soap or shampoo is used up. See below on the list that they provide.
What do they provide at Spa-1:
Vegetarian meals & wifi
lockers
towels
in house adult clothing (up to XXL) , that's the orange shirt and bottoms for ladies to wear
shampoo and body wash (2 in 1)
slippers and hair dryer
disposable underwear for ladies
beauty essentials such as makeup remover and sunblock are not provided
if wearing contact lenses, bring your own lens casing and solution.
My verdict 
As the place closes at 10.30pm, the staff told us to shower and leave by 10.20pm. We were all frolicking and relaxing in the Jacuzzi then when the staff told us on the cutoff timing around 9.45pm, all of us got up and went to shower. 
There were only 2 toilets and 2 showers. So some people just changed into their clothes as there wasn't enough time to wait for the shower and wash up. 
Another instance, I was feeling thirsty and went to the cafe to get myself plain water to drink and one of the staff told us, no more taking of drinks as there is no one left to wash the cups. Luckily another female staff from the kitchen was very nice to offer to help us wash the cups.
Perhaps it was the timing we went at, and that was after 8pm, there were alot of people who came, I presumed because of the really attractive promotion. But at the same time, I felt that it would have been a better experience if I went in the day so that I won't feel getting chased by the staff to leave so that they can go home on time.
Facilities that they have were good, I enjoyed it but the feeling of being chased around, that was something that I strongly think is because we went after 8pm. So would I go there again? Yes, I'm intending to bring my mom, but will avoid going at night. Definitely in the day so that I won't get chased around and can frolick in the Jacuzzi and enjoy my free flow vegetarian food. 
Planning to go there?
A glance at their website shows the 3 package that they have. 
I feel that the couple full day pass is super worth the money. 
Address:
511 Guillemard Rd #B1-01
Grandlink Square, S399849
(3 min from Paya Lebar MRT Exit D)
Operating Hours
Daily: 11am – 10:30pm
(including PH & weekends)
Tel: +65 6846 1775
Whatsapp: +65 9806 8001
Email: info@spa-1.com.sg
About Author