I had some cravings for cafe brunch but didn't want to burn a hole in our pockets. Cafe food is expensive and typically cost SGD 15 and above for some decent serving. With some google search, I chanced upon The Breakfast Club located at Kovan that offers wallet-friendly brunch options! It is located nearby the famous Punggol Nasi Lemak, and Mala restaurant as well!
If you want to check out other food options:
Situated in a Kopitiam, the Breakfast Club isn't as fanciful as cafe dining where you have instagrammable interior design to take photos at. But hey, you pay less premium! Instead of paying $20+ per pax, here, I can find a dish for $10 and below and yet, still cafe-style food! What a steal!
When we reached the place, it was a little hard to find seats as the stall was very popular and there were limited seats, to begin with. Thankfully we went early in the morning, so we managed to get a seat. At that time, there were already at least 10 people in the queue. So come early!
Menu at The Breakfast Club
They have a wide range of selections from All Day Breakfast Sets, to Club Classics(available only after 3 pm). They also have an array of side dishes for you to choose from!
All Day Breakfast Sets
Breakfast Plate
(whole pork sausage, hash brown, cherry tomatoes, baked rice, scrambled eggs)Add Bacon 2PC ($2), Mushroom ($2) Change Toast to Pancake ($1)
$9.90
English Plate
(Bacon, sunny-side-up eggs, french toast, hashbrown, cherry tomatoes)Add Baked Beans ($1.50)Change Toast to Pancake ($1)
$6.90
Egg Benedict
(Beef Sausage Patties, Poached Eggs, Hollandaise Sauce, Butter Toasted Buns)
$7.90
French Toast (2)
$3.50
Pancake (3)
$3.90
ROSTI
Sausage & Egg
$8.90
Sausage
$7.90
Plain
Add ons: Bacon 2pc ($2), Egg ($1)
$5.90
We ordered the breakfast plate and Rosti from the all-day breakfast sets, read on more on our review.
Club Classics, available only after 3pm
| | |
| --- | --- |
| Chicken Chop(Grilled Chicken Doused In Gravy with French Fries and Potato Salad) | $7.90 |
| PASTA | |
| Aglio Olio(Classic Favourite Tossed In Oil Garlic Chilli Prawns and Wild Mushrooms)Add On: Egg ($1) | $7.90 |
| Cream Pasta(Buttery Cream Pasta With Sous Vide Egg, Prawns and Wild Mushrooms) | $8.90 |
We didnt try any of the club classics options that day, perhaps another time!
They also have Potato Salad at $3.50. Then if you order any mains, you can get it at $2.50.
But we didn't order that as we weren't that into salads.
Sides at Breakfast Club at Kovan
| | |
| --- | --- |
| Hashbrown | $2.00 |
| Sunny Side-up | $1.00 |
| Creamy Scrambled Eggs | $2.50 |
| Baked Beans | $1.50 |
| Cajun Seasoned Fries | $3.00 |
| Cherry Tomatoes | $1.50 |
| German Sausage | $3.00 |
| Tatertots | $4.00 |
| Cheesy Chicken Pops | $6.90 |
| Cheese Fries | $4.50 |
What We Ordered
Rosti with Egg and Sausage ($8.90)
We waited a while longer for his rosti to arrive as it was made on the spot. Freshly prepared. The serving was small and we thought that it wouldn't be filling at all, but oh we were so wrong, the rosti was super filling, however, it was not up to the boy's expectation. He finds it a little undercooked, unfortunately. 
The Breakfast Plate at Breakfast Club Kovan ($9.90)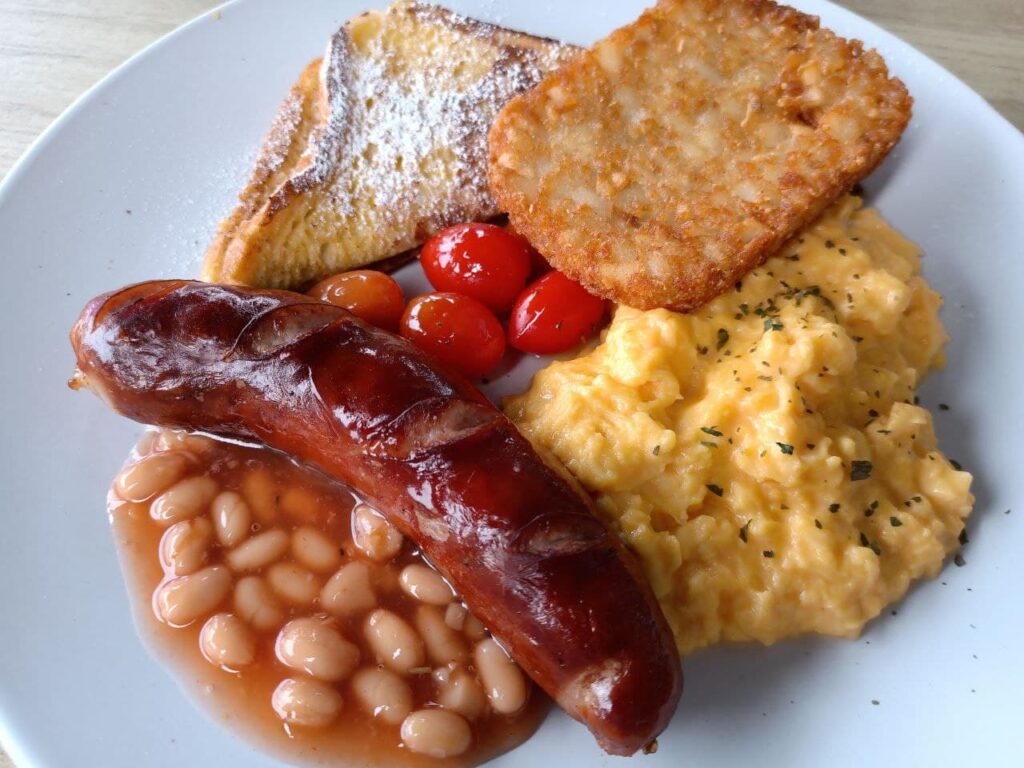 For the price that we paid, less than $10 for this dish, and yet still cafe style breakfast, it was value for money. The portion was generous, I shared my meal with the boy. He prefers mine over his.

The scrambled egg was so delicious. The loose, large soft curds coaxed from low, steady heat. It had a creamy consistency without being watery, but it was fluffy without being dry. It was so good. 
The best is, it does not have too much egg yolk taste which is what i prefer. As for the cherry tomato, it had a thin, snappy peel and it was very juicy and sweet. I enjoyed my meal heartily. 
The Breakfast Club Kovan Singapore
Location:
941 Upper Serangoon Road, Singapore 534709
Opening Hours:
Wed-Mon 9am to 9pm
Please share this article if you think it's awesome!
Follow me at @simplypeiqi on instagram!
About Author