I was contemplating whether to go to the Noryangjin Fish Market as I was having my mid term exams. Then YH persuaded me and I gave in.  I didn't bring my digital camera as I didn't want the fishy smell on it. So pardon me for poor quality photos.
The fish market is similar to Busan's Jalgachi market. You choose the seafood you want , then you can get them to cook for you. But watch out for the hole in your pocket, seafood is very expensive.
Noryangjin Fish Market is also one of the top tourists attractions and the largest seafood market in Korea, so if you are planning to travel to Seoul, do visit! Seafood lovers, mark it in your itinerary!
However, do be prepared for wet floor and fishy smell, refrain from wearing your pretty and nice outfits, you don't want them to end up with fishy smell! 
Click here if you want to skip to my review of the market. If you are still planning more activities for your itinerary, why not check out my comprehensive list of activities to partake in during my 5 months stay in Korea?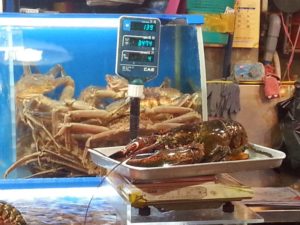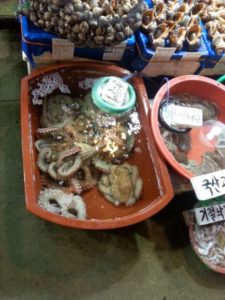 We bought the seafood at the first floor. The ahjussi who brought our purchases to the 2nd level eating house speaks Mandarin so communicating was a breeze.
The baby abalone was the most value for money. 4 for 10,000won.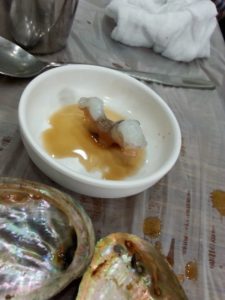 It was still moving, i could feel the tentacles sucking the insides of my mouth as I tried to chew and swallow it.
Ratings:4/5
Noryangjin Fish Market Review:
My favourite dishes were the lobster and abalone. The fish tasted average. We did not really like the octopus though, it was my first time eating raw octopus. I could feel its tentacles moving in my mouth, sucking on my tongue. Quite an interesting experience. 
We spent close to 50k won at the eating house, just for them to prepare our seafood. Which wasn't very worth it, as they didn't add anything to our seafood. For instance, no sauce was added. They merely cooked it. So it's like you pay them 50k won just to cook it which we felt it was very rip off. We could have prepared it on our own and save the 50k won. Hence I would suggest to just purchase the seafood from there and bring home to cook if you are in a big group. Alternatively, it could simply be us being just unlucky to buy a fish that was too skinny for us, the 8 of us.
But if you are there with just a friend or in a small group, then it is more worthwhile to eat at the eating house since the preparation charges wouldn't be very high and you would be well fed. That's according to my other friends who went there with just a friend, it was just the 2 of them. They had a fish and abalones . And they spent only slightly more than what I have spent.  For our case, we had a big group and serving was small, we were not full at all. My stomach felt like 1/8 filled. 
They also got our orders wrong. We asked for the abalones to be steamed but they fried it instead. 
But nonetheless, I would still recommend you to go, if you are planning a holiday to Korea, because the seafood is really fresh! So read more for the directions to the Noryangjin Fish market below! 
Directions:
Noryangjin Station Exit 1. The fish market is the building beside the station. The building with the carpark on the rooftop.
Even though we ordered 1 lobster, 8 abalones , 1 fish and 1 octopus,we were still very hungry. So we went to get street food that was just across the subway station.
The good thing about eating street food in Korea is that, they provide you with free flow drinks and a basket for you to throw the rubbish. Thus making it convenient to dispose the rubbish. Back in Singapore, you don't get to see such street food stalls at all.  
About Author