Yummy food and value for money.
I used to not eat Thai food as I always choke when I drink tom yum soup. That all changed after bae introduced me to clear tom yum soup and I was hooked. 
If you are looking for cheap and good authentic Thai food in Singapore, look no further. Nakhon Kitchen will sweep you off your feet. 
So last weekend, I went with bae and family to Nakhon Kitchen for yummy Thai food to celebrate bae's parents birthday. Initial reactions on seeing the queue led us to think that we would be seated quite soon, however, due to safe distancing measures in place, it took some time for a table that could fit all 5 of us to be vacated and sanitized. 
Long queue but short wait for food
While we waited for our seats, the friendly staff handed us the menu for us to place our orders, and bustled off to the kitchen to put it in. This system seemed really efficient as the moment we were seated, all of our food came really quickly and what a spread we ordered.
Dishes we ordered and what to eat at Nakhon Kitchen
Of the lot, the crowd favourite were the butter chicken and deep fried fish with Thai mango. 
Butter chicken ($8)
The butter chicken was tender and flavourful without the taste being too buttery or overpowering, perfect to enjoy on its own or with a mouthful of fragrant Thai white rice. 
Deep fried fish with Thai mango ($25)
The fish was pretty well cooked, not overdone with a hint of sweetness that points to the freshness of the fish. The Thai mango they used was well picked too, of just the right ripeness being sweet but with a slightly tart flavour that helps to cut through the oil that the fried fish inevitably brings.
On to the other decent dishes, that while not spectacular, still deserves a decent review. 
The Nakhon Kitchen olive fried rice, tom yum and green curry. 
Olive fried rice ($6)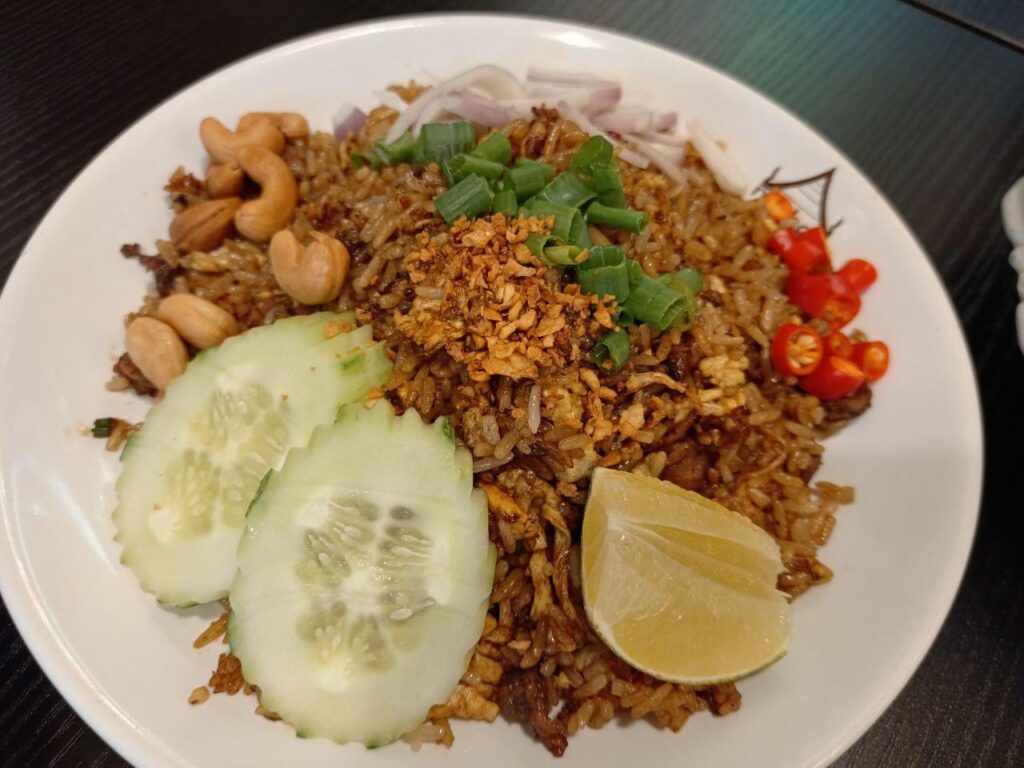 The olive fried rice was done pretty ok, with the rice being well fried and infused with the flavour of olives, it comes with a side of nuts and chilli so that you could adjust the condiments you wish to add to the rice to enhance its flavour and texture. 
Tom yum goong, clear soup ($6)
The tom yum was nice, not too spicy or sour, it proved to be a valuable dish that helped to boost our appetite as we had ordered quite a lot of food between the 5 of us. 
Green curry with beef ($8)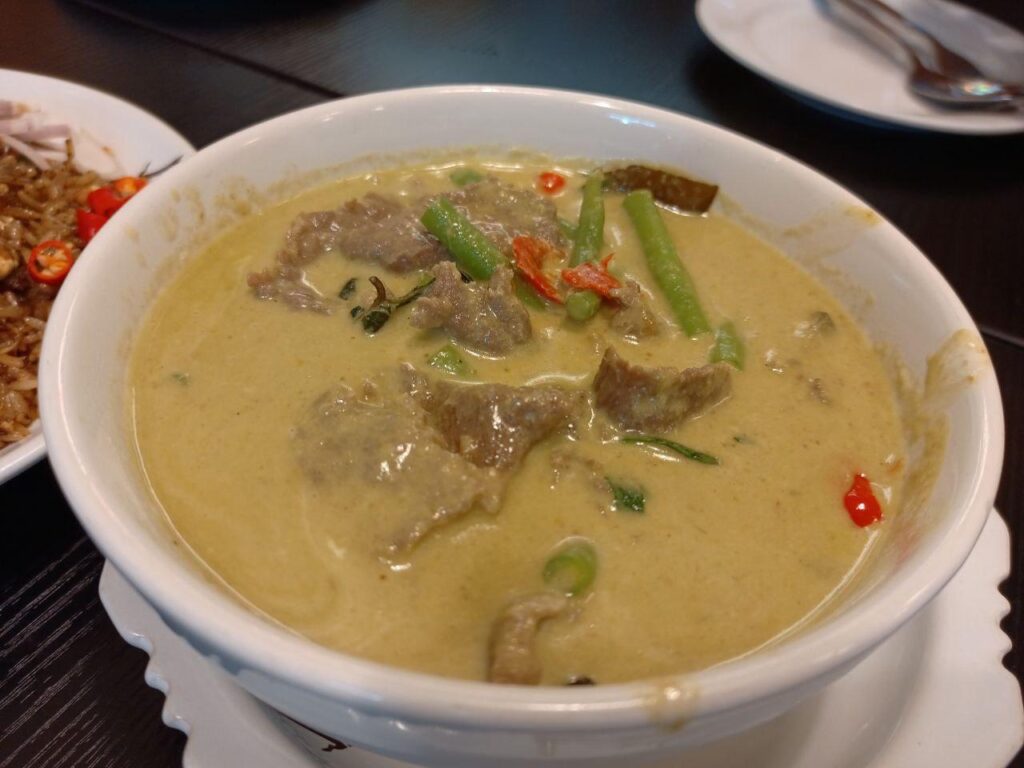 Lastly, the green curry with beef was pretty decent, with the beef being surprisingly tender, considering the meat was cooked in the curry. It was also pretty flavourful, infused with the taste of the green curry.
The underwhelming dishes – Sambal kangkong and basil pork with rice.
Sambal kang kong ($6)
The kangkong was really forgettable, easily beaten in taste by most tze char stalls. The sambal lacked the umami flavour but packed plenty of kick from the chilli, making it a pretty unbalanced flavour profile. The basil pork ($6), was pretty unremarkable from what can be found as a frozen ready-to-eat meal that's available in NTUC. 
With this in mind, I would suggest that you could be better served ordering other dishes besides these two.
Then for the drinks, we had 2 Thai milk tea and 3 lemongrass drinks, it was $3 per drink.
Total cost of the sumptuous dinner for 5: $88 (for 5 dishes, this is really affordable)
And if you want to impress the staff and order your food in thai, start learning thai in singapore.
Can we make reservations at Nakhon Kitchen?
From what I understand, you cannot do reservations. However you can call to place your order for takeaway. 
List of Nakhon Kitchen Outlets in Singapore
Nakhon Kitchen Sengkang (New Branch)
1 Sengkang Square
#02-30, Compass One
Singapore 545078
Opening hours:  Daily 11.30am – 9.30pm
Nakhon Kitchen Vivocity (New Branch)
1 Harbourfront Walk
B2-23C, VivoCity
Singapore 098585
Opening hours: Daily11.30am – 9.30pm
Nakhon Kitchen Holland Village
27A Lorong Liput, Holland Village
Singapore 277738
Opening hours: Daily, except Wednesday
12.00pm-3.00pm / 5.30pm-10.00pm
Nakhon Kitchen Tampines
2 Tampines Central 5
#01-42, Century Square
Singapore 529509
Opening hours: Daily 11.30am – 9.30pm
Nakhon Kitchen Bedok 136
Blk 136 Bedok North Ave 3
#01-162, Singapore 460136
Opening hours: Daily
12.00pm-3.00pm / 5.30pm-10.00pm
Nakhon Kitchen Bedok 539
Blk 539 Bedok North Street 3
#01-591, Singapore 460539
Closed for renovations
Nakhon Kitchen Kovan
Blk 212 Hougang Street 21
#01-341, Singapore 530212
Opening hours: Daily, except Wednesday
12.00pm-3.00pm / 5.30pm-10.00pm
Want to receive the latest updates?
Follow me on instagram @simplypeiqi
About Author