A few years ago when I was in NUS, I went to Moscow for a short holiday right after my exams. I recalled packing my luggage with haste. I love travelling but utterly hate packing and unpacking my luggage. As things are relatively more expensive in Moscow, I stayed at my relative's accommodation. Never did I expect myself to have the opportunity to visit there again – this time virtually.
I was brought on a Moscow virtual tour by Moscow Private Tours.
Based on 1281 reviews (as at 1 Sep 2020), they are ranked #3 out of 639 tours, I was quite impressed.
They have won Moscow Private Day Tours for consecutive years since 2011.
When COVID struck, the tourism industry are among the hardest hit. Tour agencies are forced to innovate to survive.
With that in mind, Moscow Private Tours came up with the idea to host virtual tours of Moscow, enjoyable right from your own living room.
My first impression of the virtual Moscow private tour
Initially, I was quite sceptical of this virtual tour, but the tour exceeded my expectations. I was impressed by the resolution of the video tour as well as the feeling of 'being' in Moscow! No kidding, I really felt like I was in Moscow.
So for those families and couples out there, if your travel plans were dashed, and there is no chance of leisure travel soon, you might want to consider going for a virtual tour to feed your wanderlust.
When I checked the site, I saw that they were not using zoom but instead, they have built up their own media server to make Full HD in real time possible. This means minimal latency and high quality video resolution.
See the Difference
Some videos that I took during the Moscow virtual tour
I usually dislike going for guided tours as the group will be pretty big like 10+ . But for this virtual guided tour, the tour size is limited to 8 people per tour. So this gives you the chance to interact with your tour guide. 
For me, I had Julia/Juliette as my tour guide, and they have the tour in many languages, as well as English.
Instead of the usual zoom buttons where you click the 'raise hand' or 'chat' button and you type out your questions. For this virtual tour, we muted our mics when our tour guide spoke and unmuted ourselves whenever we had something to ask.
During the tour as our tour guide walked down the streets, and close up to the monuments, I could hear the chattering of the public and the public looking at us, so it made me feel like I was in Moscow.
When Juliette brought us to the metro and pointed at the stations to show us which station we were at, her camera zoomed in very close to the map so it felt like i was standing beside her and looking at the station on the map.
The feeling of 'being there' made me want to visit Moscow again in future.
Same sentiments as this other tourist who went for a similar tour
Our Itinerary for The Virtual Tour
I guess the pros of a virtual tour is when it comes to physical tours, we always have that 1 person who just want to snap more photos or is lagging behind. But in virtual tour, that is solved.
So our tour guide 'brought' us to the must-see places in Moscow:
The Red Square
The heart of Russia and the most popular landmark in Moscow. 
The Kremlin
Kremlin – the biggest preserved ancient fortress in Europe. It served as residence for the rulers, princes and aristocracy. In fact, this is one of the remaining 22 kremlins in Russia.
Fan Street Nikolskaya
The street where we saw beautiful lights, it was a pretty sight! Apparently, one is not allowed to drink on the streets.
Saint Basil's Cathedral
I always find this cathedral very pretty, the architecture is amazing. It is the most interesting cathedral that I have seen. At one glance, don't the onion domes look like candle flames? Did you know, it is designed in such a way so that during winter, snow can slide down easily. Very practical!
The Bolshoi Theatre
Russia is famous for their ballerinas. If you are a fan of it, you must come here to watch! Did you know, bolshoi means big', and the name of this theatre is simply, the Big Theatre. This grand and big theatre is also the first theatre for ballet.
KGB Headquarters
This KGB Headquarters used to house prisoners here. Subsequently, it was renamed to Federal Security Service.
The beautiful metro stations
Moscow has the most gorgeous train stations in the world, every station has beautiful architecture, sculptures in it. Their network coverage is extensive and every year, they add a few stations. So the metro station we 'visited' was the Revolution Square Metro station. Apparently, this metro was built in 1935, and it served as the bomb shelter. If you were to go to this metro station, there are doggy sculptures, there is one doggy sculpture where the paint on its nose is rubbed off. They say if you were to rub the nose, you will get some good luck!
The GUM
GUM – the epitome of majestic grandeur. At first glance, one would think it is a grand hotel. But it is actually Russia's most iconic department store, located in the heart of Red Square in Moscow. From Gucci to Prada, all the international brands that you can think of! I was reminded of Singapore's Marina Bay Sands Shoppes as Julia brought us 'into' the shopping centre.
Would this tour suit me?
If you are looking for adventures, things to do, then this virtual tour is not for you. But, if your friends and you are looking for a cultural tour in Moscow, then you can consider this!
Moscow is full of buildings with intricate architecture, so be sure to check it out if you're a fan of it!
If you love history, then this tour will bring history to life for you! You will get to hear the experienced tour guide bring you through the history of Moscow, the Red Square, Lenin Mausoleum and more!
Other than learning about the history of Moscow and Red Square, Julia also shared with us practical advice on the best time of the year to visit Moscow and the popular Russian dishes.
How much does this virtual moscow tour cost?
5670 ₽
[Approx. 103 SGD, depends on conversion fee]
Price per Tour, you can invite up to 7 guests, then it is  about SGD13+ per pax
90 mins Experience
Flexible Timings
Flexible Route
100% Private
For each tour, it cost around SGD 103. To make your money more worth, it is better to invite all your friends, so that with a total of 8 people, it would cost around +/- SGD13 per pax.
The online tour is about 90mins long and at a very flexible timing, there is a tour slot every 30mins starting from the first tour at Moscow 9am to 7pm with the tour ending at 8.30pm Moscow time. For me, my tour started at Moscow 6pm so it was 11pm in Singapore.
Although it was supposed to be 90mins long, my tour ended up almost 110mins long. This is a good sign, makes our money more worth.
The route is also flexible, during my tour, there was a request to visit the Commemorative Stone and our knowledgeable tour guide brought us there and she explained the origins of the stone to us.
Less the packing of luggages, and spending the money to travel to Moscow, you can 'visit' Moscow in a novel way.
Keen to 'visit' Moscow?
Use my promo code 'PEIQI' to book and you will enjoy 10% discount! Click here to book now!
Or if you are planning to gift a friend with an online tour to Moscow, you can purchase the gift voucher here!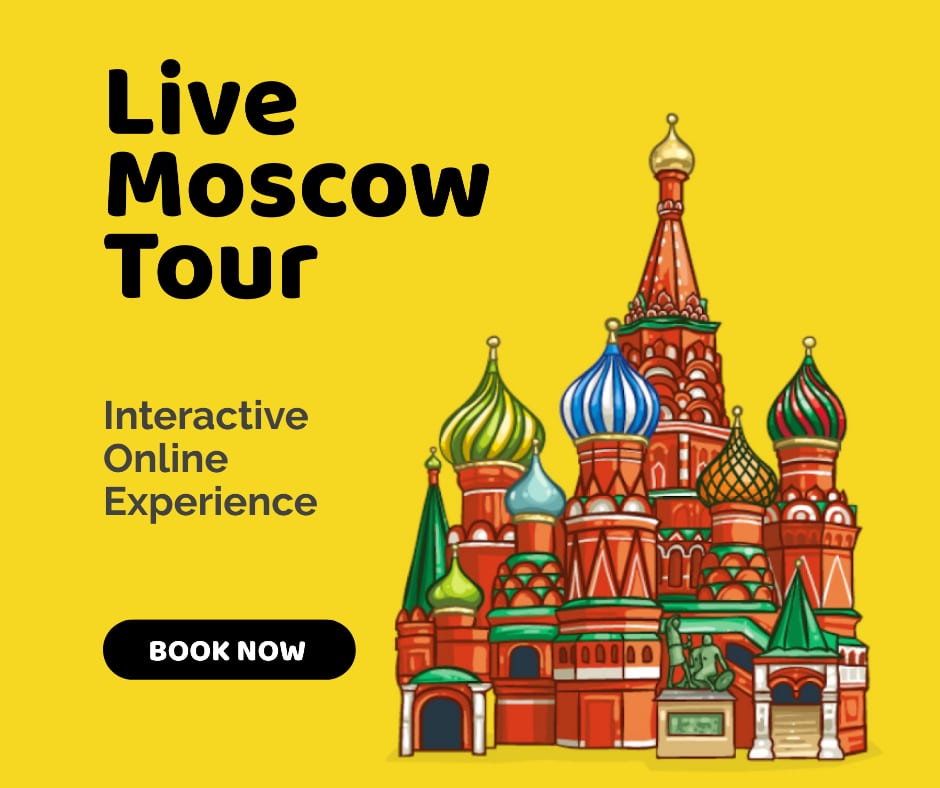 Disclaimer: This post contains affiliate links. However, the opinions I put here are solely my own. 
Have you been to a virtual tour before? Do you plan to visit Moscow? Share with me your thoughts below.
Want to receive the latest updates?
Follow me on instagram @simplypeiqi
About Author