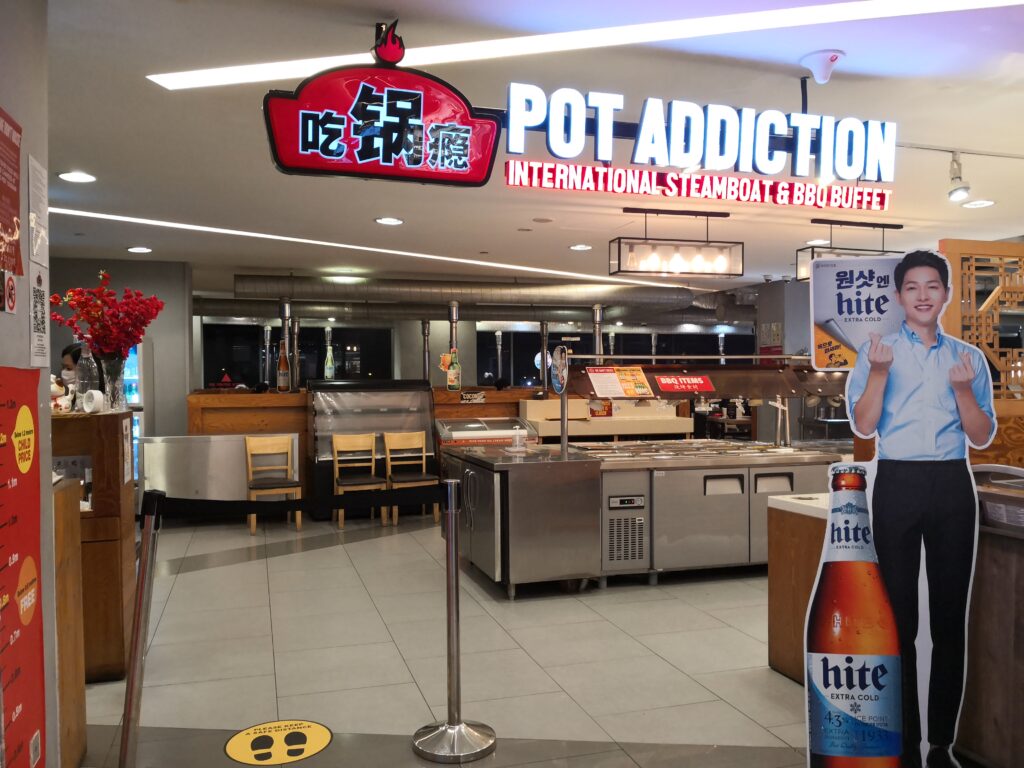 Pot Addiction is Singapore's first international steamboat(also known as hotpot), BBQ and mookata buffet. In this review, I'll be covering the popular orders and sauces at this hotpot/steamboat restaurant.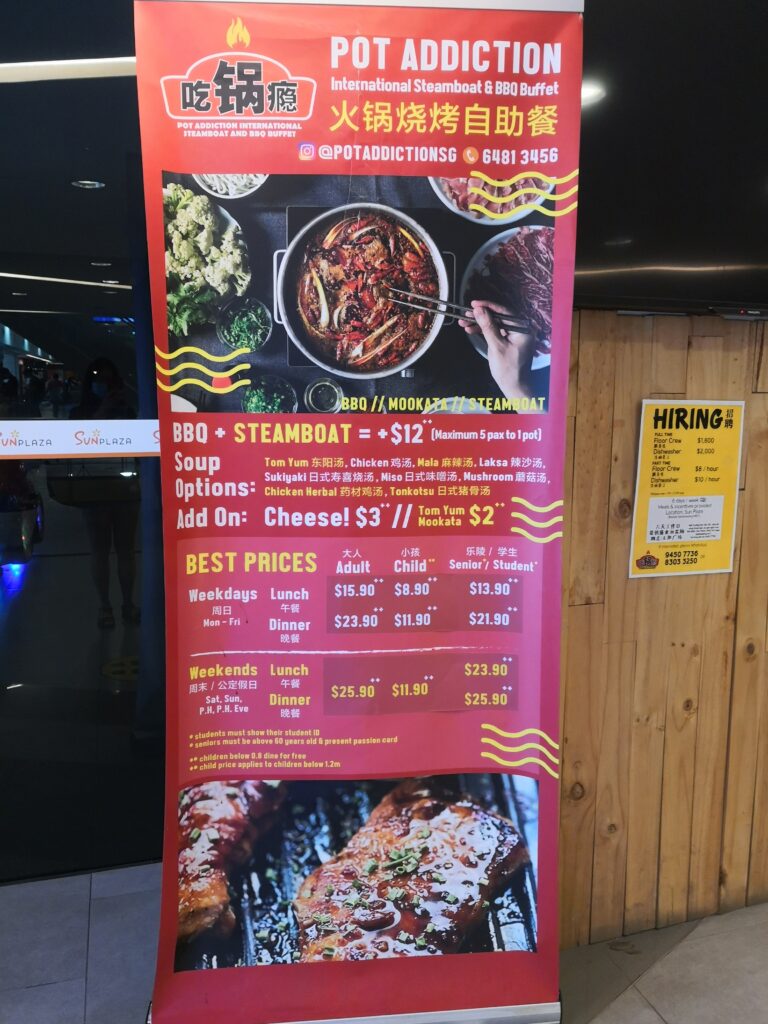 Located at Sembawang shopping centre – Sun Plaza, this steamboat restaurant outlet has a large range of soup options for you to choose from: Tom Yum, Chicken, Mala, Laksa, Sukiyaki, Miso, Mushroom, Chicken Herbal, Tonkotsu. You will definitely find something that you enjoy!
By the time we reached around 7pm+, there was some queue for the bbq. We didn't want to wait so we opted for the hotpot instead.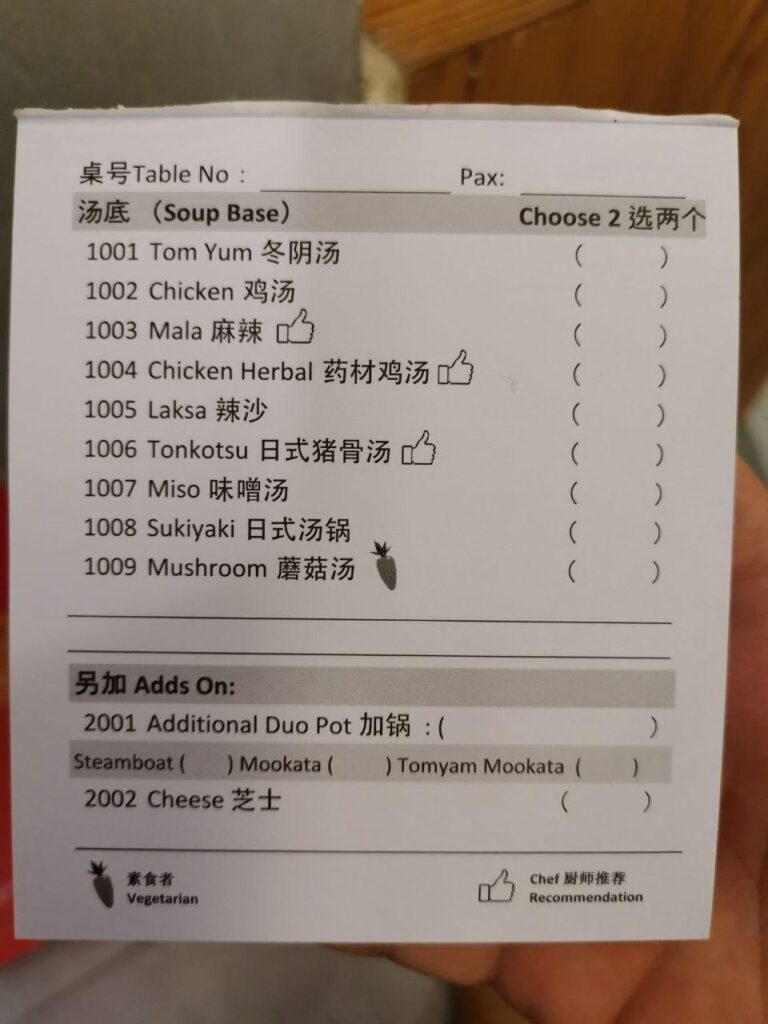 We opted for the Mala and Tonkotsu steamboat soup base, it was super gooodddd, omg, i kid you not.
If you want to add on cheese, it's just another 3 bucks per person. Then if you want tom yum mookata, its another $2 per person. A pretty good deal!
Affordable Prices At Pot Addiction:
 
 
Adult
Child
Senior/Student
Weekday
Lunch
$15.90++
$8.90++
$13.90++
Dinner
$23.90++
$11.90++
$21.90++
Weekend
Lunch
$25.90++
$11.90++
$23.90++
Dinner
$25.90++
Safety Measures At Pot Addiction In Light of Covid
To minimise contact, customers stay in their seat while the staff take our orders and serve the food. I really like this as you get more service while staying seated haha. It also makes me feel more at ease that safe distancing measures are deployed.
Here's our order on the menu.
Large Spread of Steamboat Ingredients
There were an assortment of seafood and meat to choose from, as you can see from the menu, there are sliced pork belly, beef stomach, beef tribe, sliced beef, sliced lamb, squid, baby squid, mussels, clams, bamboo clams, scallop, gong gong and prawns.
So for meat and seafood, when you indicate '1', they count it as 2 pax portion. So when you indicate '1/2' , it means 1 pax portion. Except for ice cream, '1' means 1 pax portion, the default.
Great choice of Steamboat Soup Base and Tender meat
We ordered sliced pork belly, sliced beef, sliced lamb, clams, bamboo clams, scallop, gong gong. The meat were super tender and good! Coupled with the delicious tonkotsu hotpot soup base, it was heavenly good!
The portions were very generous. We ordered some cooked food as well, such as braised pork and mala duck wing. I got myself some kimchi, it was rather spicy!
On our second round, we ordered 2 pax portion. Quite a big portion for two!
We ordered some typical hotpot ingredients like luncheon meat, hotpot scallop, crab claw, cheese tofu, enoki mushroom, oyster mushroom.
It was a huge feast!
We tried the popular tasty mix sauce and spicy hot sauce, it was super good.
Although there was a time limit of 90 minutes, they didn't chase us away and let us continue feasting!
Verdict
The bill came up to $61 for 2 people, I would say it is very reasonably priced. We had some watermelon and ice cream at the end of our meal.
A very satisfying meal that is very value for money.
If you are looking for affordable steamboat in Singapore, you should really try this Pot Addiction, it will get you addicted to hotpot!
Instagram: https://www.instagram.com/potaddictionsg
Contact: 6481 3456
Operating hours:
Address: 30 Sembawang Drive #02-14, Sembawang Sun Plaza, Singapore 757713
Hands down, one of the best and affordable steamboats I've been to.
About Author